The First Day of Venezuela's 'Petro' Token Sale Boasts $735M Raised
Having been laden with multiple sanctions from the U.S, oil-rich nation Venezuela adopted the path of cryptocurrencies in order to circumvent the financial blockade imposed by the U.S. During the last year-end in December 2017, Venezuelan President Nicolas Maduro announced the country's own state-backed cryptocurrency 'Petro' which is said to be backed by Venezuela's oil reserves and other commodity reserves like gas, gold, and diamond.
Yesterday on February 20, the company had a pre-sale of its 'Petro' tokens and as per the country president Nicolas Maduro, they have managed to raise a whopping $735 million in just first few hours of the token sale. However, the President has placed absolutely no evidence to back his boisterous claims. From his official Twitter handle, the President made this announcement.
View image on Twitter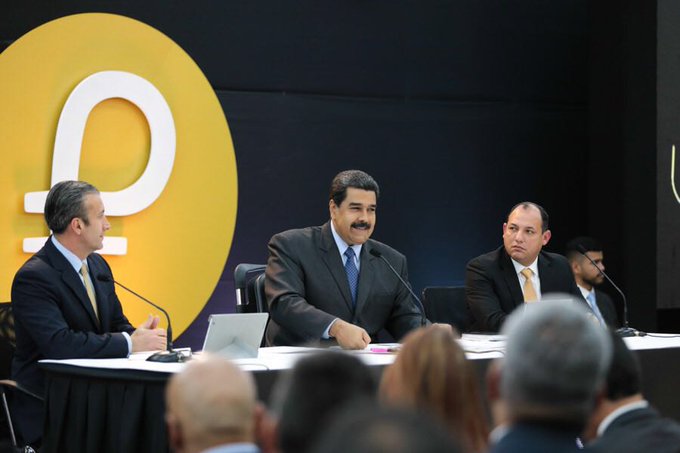 Nicolás Maduro

✔

@NicolasMaduro

A grandes problemas, ¡grandes soluciones! Desde el primer minuto el juego arrancó bien, y arrancamos ganando: 4.777 millones de yuanes o 735 millones de dólares es el resultado inicial de las operaciones de intención de compra del Petro. #AlFuturoConElPetro

1,171

1,931 people are talking about this
Twitter Ads info and privacy
Venezuela also plans to rope-in other OPEC members, who have been a victim of the U.S sanctions, to use its 'Petro' cryptocurrency is order to overcome the economic pressure put on them.
The Petro unveiling took place yesterday in front of a live audience in the presidential palace Miraflores, where Nicolas Maduro was being received a brief demonstration from a Russian executive explained about the sophisticated technology being used to support the operations of the digital currency and other technicalities which will run the platform.
During his address to the audience, the Venezuelan President said that the crypto would be across sectors like tourism, gasoline sales as well as for oil transactions. As reported by Reuters, the President also mocked the U.S by referring it to the comic character of Superman and said: "Today, a cryptocurrency is being born that can take on Superman." He further went on to praise his government by saying "We have taken a giant step into the 21st century."
Venezuela's move of entering into the global crypto space has made global headlines and also have sparked off huge rejections from several analysts from across the globe. Many blockchain experts have warned that Petro is unlikely to attract significant investments giving the suspicious nature of details being released. There have been a lot of questions being recently raised as to on which network the 'Petro' will be running. One document highlights the use of Ethereum network while another document which is currently being referred to as the buyer's guide shows the use of NEM blockchain system.
Federico Bond, co-founder of Signatura, a digital startup based in Argentina, said: "My advice would be to tread very carefully with this — especially considering the track record of the Venezuelan government." On the other hand, the opposition leaders of Venezuela have also snubbed this move by saying "the sale constitutes an illegal debt issuance that circumvents Venezuela's majority-opposition legislature, and the U.S. Treasury Department has warned it may violate sanctions levied last year," reports Reuters.
Jean-Paul Leidenz, a senior economist at Caracas-based EcoAnalitica said that the idea of having a state-owned cryptocurrency itself is flawed as it violates the absolute nature of a 'decentralized' financial system. Leidenz further added that "You cannot stop hyperinflation by creating a new currency and doing nothing else. The government has no plans of undertaking structural reform."
Source: Read Full Article