Banks' WORST show in 14 quarters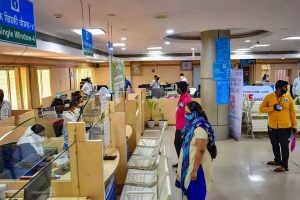 Banks' core operating profit was down 25 per cent YoY in Q2.
Banks continue to face heat from a slowdown in credit growth and a decline in yields on loans due to low interest rates.
The listed banks' gross interest income shrank for a second consecutive quarter in Q2FY22 while their core earnings, or pre-provisioning profit, were down 1.5 per cent year-on-year (YoY) in the second quarter against 10.1 per cent YoY growth in the first quarter this financial year.
Banks, however, managed to post all-time high quarterly net profits in July-September owing to a continued decline in interest costs and lower provisioning for bad loans.
The banks' combined interest expenses were down 6.2 per cent YoY in Q2FY22 while provisioning for bad loans went down 34 per cent.
At around Rs 34,000 crore (Rs 340 billion), provisioning was the lowest in at least five years.
The 28 listed banks that have declared their results in July-September reported record quarterly net profits of Rs 39,643 crore (Rs 396.43 billion) in Q2, up 48 per cent YoY from Rs 26,844 crore a year ago.
In comparison, their gross interest income was down 1 per cent YoY to Rs 2.84 trillion while gross revenues, including fee income and gains from investment, were up 2 per cent YoY in Q2FY22.
Their pre-provisioning operating profit declined 1.5 per cent YoY to a six-quarter low of Rs 87,000 crore in Q2. (See the adjoining chart.)
Excluding other income, banks' core operating profit was down 25 per cent YoY in Q2, their worst showing in the last 14 quarters.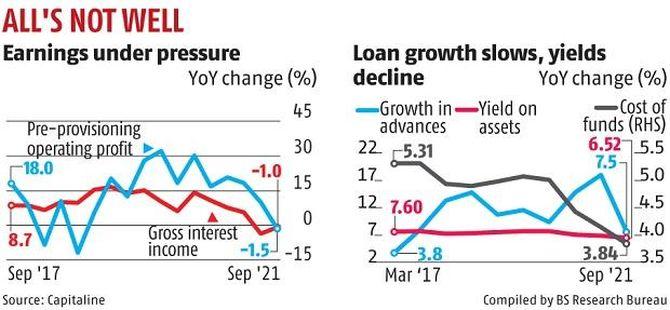 "Earnings growth for the banks came largely on the suppression of interest on deposits and write-back of past provisioning for bad loans.
Core earnings were under pressure, given low single-digit growth in overall credit and downward pressure on yields or interest on loans," said Dhananjay Sinha, managing director and chief strategist, JM Financial institutional equity.
The combined advances of the 28 listed banks in the Business Standard sample were up 7.5 per cent YoY in the first half of FY22, down from 18 per cent growth in the second half of FY21.
Banks' yields on assets, including advances and treasury investment, declined to 6.52 per cent in H1FY22 (on an annualised basis) from 6.83 per cent during the second half of FY21.
In the same period, their cost of funds was down to 3.84 per cent from 4.14 per cent.
Both numbers were the lowest in at least a decade.
Analysts say it may be tough for banks to maintain the current momentum in earnings in forthcoming quarters unless credit growth picks up pace or the interest on loans rises.
Banks also face a potential rise in their cost of funds owing to the hardening of yields on government bonds in the past few months.
The yield on the 10-year government of India bond is up by nearly 35 basis points since June this year.
One basis point is one-hundredth of 1 per cent.
Many analysts, however, expect a pickup in credit growth, especially retail, in the second half of this financial year.
"All indications suggest strong demand growth, including industrial demand. This will translate into much faster growth in bank credit in the second half of FY22 than in the first half," said Shailendra Kumar, chief investment officer, Narnolia Securities.
However, banks face the risk of a decline in their net interest margins or interest spreads if bond yields harden either due to higher inflation or a rate hike by the Reserve Bank of India.
Feature Presentation: Aslam Hunani/Rediff.com
Source: Read Full Article