Inflation And Growth Trends Shape Market Sentiment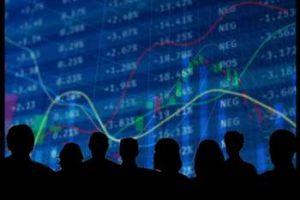 Here is a snapshot of the world markets at this hour across stocks, currencies, bonds, commodities and cryptocurrencies. Sentiment has been revived mildly in world markets ahead of the release of the crucial PCE data from the U.S.
Asian stocks finished on a mixed note. European stocks are trading with gains amidst a surprise growth in the British economy. Inflation in France eased more than expected whereas inflation in the Euro Area surged more than expected. Wall Street Futures too indicate gains on opening.
The Dollar Index retreated from its recent peak amidst measures by the Bank of England. Bond yields eased across tenors and regions. Crude oil and gold traded higher amidst the Dollar's weakness. Expectations of an output cut by the OPEC also helped lift up crude oil prices. Cryptocurrencies extended gains.
Stock Indexes:
DJIA (US30) at 29,400.50, up 0.60%
S&P 500 (US500) at 3,667.40, up 0.74%
Germany's DAX at 12,068.58, up 0.78%
U.K.'s FTSE 100 at 6,920.82, up 0.57%
France's CAC 40 at 5,716.50, up 0.70%
Euro Stoxx 50 at 3,300.15, up 0.64%
Japan's Nikkei 225 at 25,937.21, down 1.83%
Australia's S&P ASX 200 at 6,474.20, down 1.23%
China's Shanghai Composite at 3,024.39, down 0.55%
Hong Kong's Hang Seng at 17,201.00, up 0.20%
Currencies:
EURUSD at 0.9835, up 0.21%
GBPUSD at 1.1170, up 0.49%
USDJPY at 144.32, down 0.09%
AUDUSD at 0.6504, up 0.08%
USDCAD at 1.3672, down 0.04%
Dollar Index at 111.87, down 0.34%
Ten-Year Govt Bond Yields:
U.S. at 3.724%, down 0.61%
Germany at 2.125%, down 3.85%
France at 2.73%, down 3.17%
U.K. at 4.0915%, down 1.12%
Japan at 0.241%, down 3.60%
Commodities:
Crude Oil WTI Futures (Nov) at $82.13, up 1.11%
Brent Oil Futures (Dec) at $88.08, up 1.03%
Gold Futures (Dec) at $1,677.60, up 0.54%
Cryptocurrencies:
Bitcoin at $19,593.87, up 1.40%
Ethereum at $1,343.45, up 1.92%
BNB at $286.71, up 2.20%
XRP at $0.4918, up 12.31%
Cardano at $0.4369, up 1.23%
Source: Read Full Article