Winter crop forecasts slashed as 'Armageddon' drought bites
The devastating impact of the drought in NSW grain-growing regions has been likened to "Armageddon" as a new report says the double-barrel hit from low rainfall and high temperatures in spring have slashed forecasts for Australia's 2019 winter crops.
The latest report to be released on Tuesday by the Australian Bureau of Agricultural and Resource Economics and Sciences (ABARES) predicts total winter crop production to fall for the third year in a row. The forecast is down a hefty 13 per cent since September due to deteriorating conditions, mainly in NSW and Western Australia.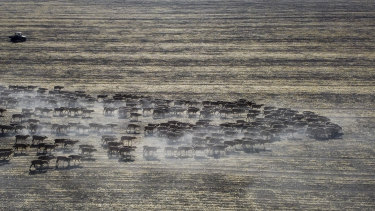 A mob of sheep stirs up the dust in a failed wheat crop near Moree in November 2019.Credit:Alex Ellinghausen.
Senior ABARES economist Peter Collins said the NSW grain crop would be one of its lowest in the past two decades.
"The seasonal conditions we had in spring were more unfavourable than were being predicted at the beginning of spring and, as a result, crop prospects deteriorated.
"And that's especially the case in Western Australia and southern New South Wales. So production in those areas were revised downwards," he said.
"We just hope the drought ends for next season," he said.
ABARES said that the area planted for summer crops in NSW was expected to be the lowest on record, 166,000 hectares.
"Summer crop prospects in northern New South Wales are currently extremely poor. Soil moisture levels are extremely low following the prolonged period of well-below-average rainfall and the outlook for seasonal conditions during summer is unfavourable. Additionally, supplies of irrigation water are low," ABARES said.
Source: Read Full Article