Ethereum Development Teams Get Fresh Grants From Uniswap, Kraken & Others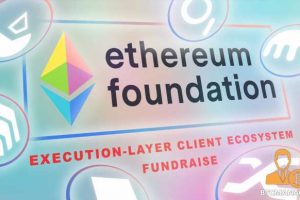 Five Ethereum development teams have received $250,000 grants each from Kraken crypto exchange, Uniswap Grants, Synthetic, The Graph, Lido, and Compound Grants. The Ethereum Foundation (EF) says the funding will strengthen and further the innovations on the network.
Ethereum Clients Get Fresh Funding
The Ethereum smart contracts network has been witnessing significant adoption over the years and the network is now one of the most important enablers of decentralized finance (DeFi), with Ethereum-based protocols now dominating the industry in terms of popularity and total value locked (TVL).
However, the success story of Ethereum would have been entirely different if not for the constant hard work and dedication of its diverse development teams. 
In a bid to further encourage these Ethereum client teams, especially as Eth2 development inches closer to the highly complex Merge phase, where Eth1 and Eth2 will be fused together to lay a solid foundation for the creation of an ultra-fast, and energy-efficient proof-of-stake network, a total of $1.5 million has now been donated by some stakeholders.
"We're excited to announce that Compound Grants, Kraken, Lido, Synthetix, The Graph, and Uniswap Grants are donating $250k each to support Ethereum execution-layer client teams. This project is the result of several months of work," wrote the Ethereum Foundation, adding that the funds will only serve as a supplement to its grants, rather than a substitute to the continued financial support it gives to the client teams.
The Ethereum Foundation has set aside $4 million to be given to its execution client teams this year, and EF says it has already dished out a part of that allocation to some of them, including Besu, Geth (Go Ethereum), Nehermind, Open Ethereum, and Turbo Geth.
The recipients of the latest donations are Besu, Erigon, Geth, Nethermind, and Nimbus.
Promoting Decentralization
What's more, EF has made it clear that it firmly believes that the success of Ethereum over the years is partly attributable to the diversity of its client teams and the support of capable stakeholders in the blockchain ecosystem will further solidify and accelerate innovation in the Ethereum ecosystem.
"Part of our goal with this first round is to lessen risks that come from reliance on any single team or entity as we all work to maintain quality open source products in a diverse, decentralized, and sustainable way. We continue to work towards more decentralized funding mechanisms for Ethereum public goods, and this is one more step that enables larger groups of participants to directly support client development and maintenance," EF added.
In related news, BTCManager informed on August 17, 2023, that the Eth2.0 staking contract is now the single-largest holder of ether, with nearly 7 million ETH now residing in the Beacon Chain. 
At the time of writing, ether (ETH) is trading around $3, 108, with a market cap of $364.52 billion, according to CoinMarketCap.
Related posts:
Source: Read Full Article