Bitcoin Price Looming Below $1200 Levels Amid Bearishness
Bitcoin prices apparently had a hard time staying above $1200 price levels after recent developments. While trading volumes remain considerably high, selling pressure is making a return. Bitcoin prices did break below $1200 on several occasions and large sell orders even pushed prices down to $1100 through the today's trading session.
Major Signals
BTC/USD rates are volatile within a specific margin as traders are perhaps still indecisive as to what direction the market could follow
Bitcoin prices are taking a downturn only days after BTC/USD rates were trading at 1250 levels following a recovery
This time around the price fall is much more significant with trading volumes also being up considerably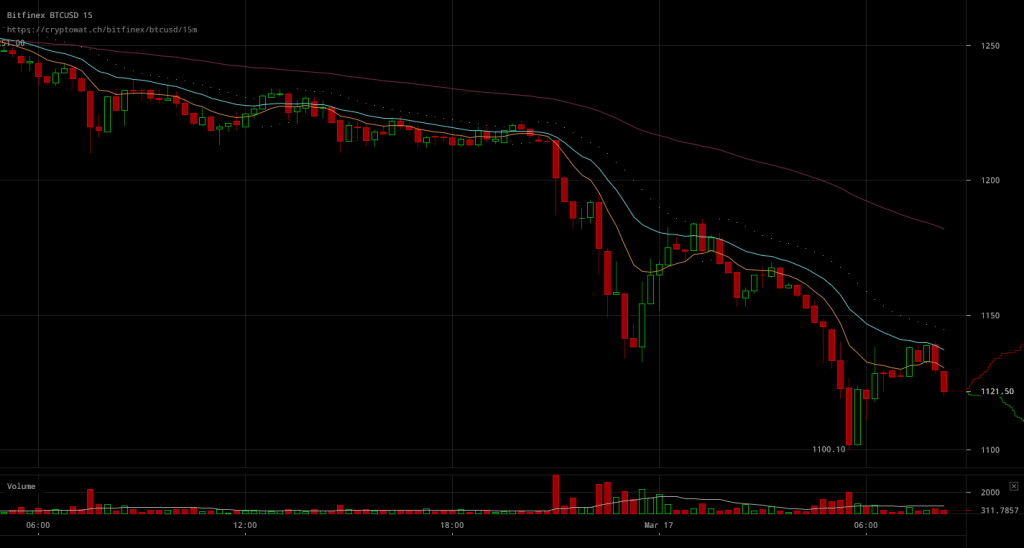 Bitfinex BTC/USD charts make the downturn markets have taken apparent as traders continue selling off. This price fall comes only hours after bitcoin rates seemed to have broken above $1250 more comfortably than before, yet underlying support just wasn't there. Large sell orders rocked bitcoin markets and eventually lead to further selling off as bitcoin markets go through one of the biggest price falls between recent trading sessions. As of now, it seems like bearish traders have been swift in eating through support as selling pressure remains strong.
OKCoin BTC/USD weekly futures charts are following through with the bearishness live BTC/USD rates are going through at the moment. The divide between futures rates and live rates might have shrunk considerably but that's no positive development provided that it happened under the light of one of the most bearish trading sessions ever since bitcoin prices climbed above $1000.
All in all, it seems like bearish traders found a good chance to poke a hole through the lack of support observed among bitcoin markets in the last few days. The immersive selling pressure BTC/USD rates are currently going through has been quite effective at causing a price drop, but we'll have wait until "the storm" is over to see where this'd end up.
Source: Read Full Article