Bitcoin Price Spikes Above $1000 in Remarkable Rally
Bitcoin markets are still affected by the powerful overturn that recently started pushing the price up from $900 levels. BTC/USD rates reached and are currently trading above $1000 amid relatively high 24 hour trading volumes in comparison to previous trading sessions.
Major Signals
It's up to question whether or not support would form around current levels after the recent uptrend but there's still enough buying pressure for the price to stay above $1000.
The upward spike leading BTC/USD markets above appears to have begun after a dip where the price fell down to $970 levels.
The uptrend might have been met with resistance at around $1010, but this isn't something reflected in sell walls so a breakthrough might be just around the corner.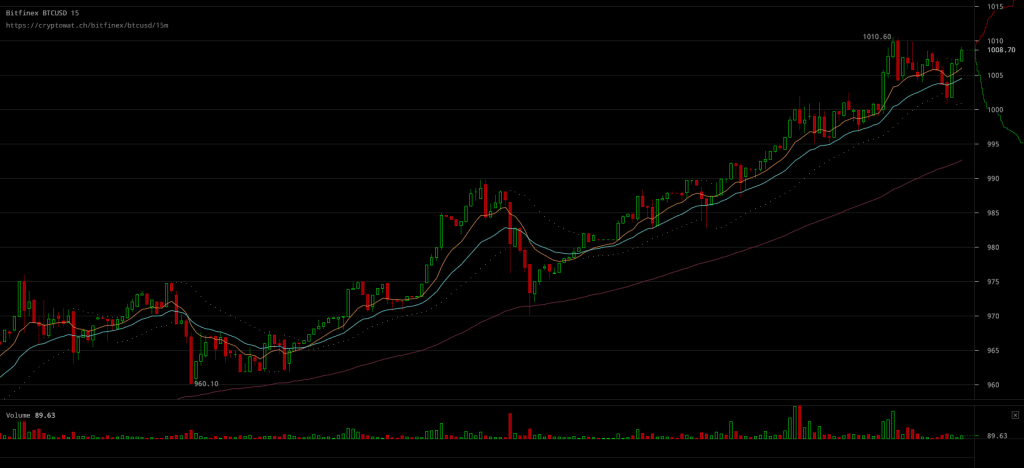 Bitfinex BTC/USD chart showcase the great momentum of the ongoing price rise that pushed bitcoin prices above $1000 for the first time ever since the crash landing of the preceding major rally at the beginning of january. At this point in time, selling pressure makes its presence more thoroughly felt yet the market's sentiment appears to be at a good enough shape to absorb it and outmatch it.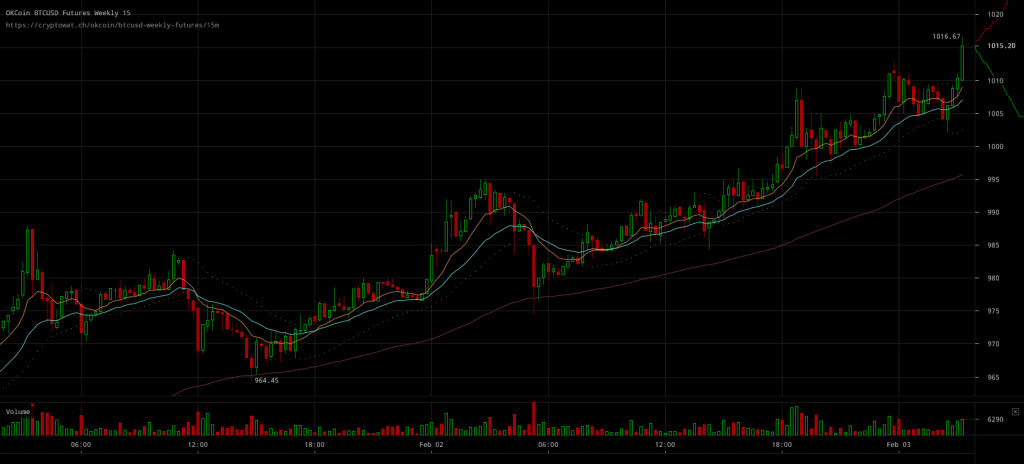 While a price rise above $1010 levels feels to be coming at any moment now with the strength in the market's momentum, futures traders are also riding on the positivity. As seen in the above OKCoin BTC/USD weekly futures chart, futures traders are working up to a notable exaggeration to live BTC/USD rates, a margin that could become even greater on the positive side in the event of a greater price rise.
All in all, it's noteworthy how bitcoin markets managed to shake off the negativity quickly and effectively in light of the new developments after a period through which $1000 levels would have sounded unlikely. The market currently showcases potential for a continuation to the rising price as buying pressure doesn't seem exhausted at the slightest.
Source: Read Full Article