A supportive wife's detailed Facebook posts led investigators directly to one alleged Capitol riot attendee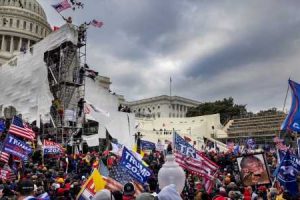 A Capitol riot attendee was charged after his wife's Facebook posts helped investigators find him.
In the posts, Lynn Feiler Edwards said her husband carried flags and sang the Star Spangled Banner on Jan. 6.
An anonymous tipster took screenshots of the posts and sent them to the FBI, according to court documents.
See more stories on Insider's business page.
A Pennsylvania man was arrested and charged Tuesday over his participation in the January 6 Capitol attack after investigators used screenshots of his wife's Facebook posts, which detailed the man's alleged actions inside the government building, as evidence.
Prosecutors say Gary Edwards, 68, was captured on security footage and rioters' live streams during the insurrection walking around the inside and outside of the Capitol building.
But authorities had some inadvertent help to kick off their investigation.
Following the riot, Edwards' wife, Lynn Feiler Edwards, took to social media to describe, in detail, her husband's alleged actions that day.
According to the affidavit, Feiler Edwards' Facebook posts were deleted or removed from public view some time after January 6.
Feiler Edwards did not respond to Insider's request for comment.
Authorities arrested Edwards on Tuesday and charged him with five counts, including violent entry and disorderly conduct on Capitol Grounds, disruption of official business, and parading, demonstrating, or picketing in a Capitol Building.
More than 450 people have been charged in the Capitol insurrection so far.

Source: Read Full Article