Let's Go Ahead and Debunk This #FakeMelania Conspiracy Theory
If you spent anytime lurking around Twitter over the weekend (thoughts and prayers), you probably noticed #FakeMelania trending due to a recent picture of Melania Trump onboard Marine One—or, as some people online would have you believe, "Melania Tump."
But here's the thing: #FakeMelania is hardly new news. This conspiracy theory is a regular occurrence on Twitter—despite the fact that it's pretty easy to discredit the whole thing with a simple Google image search. And while #FakeMelania has gifted us some truly amusing memes, it's important to know what's actually real and fake in a world where misinformation is already running rampant. So, let's go ahead and debunk #FakeMelania once and for all, shall we?
First of All, About That Helicopter Pic
The #FakeMelania hashtag started trending over the weekend thanks to a picture of the First Lady boarding Marine One on her way to the final Presidential Debate. And people immediately started calling out her smile and jawline as "evidence" that Melania wasn't her ~most authentic self~.
The only thing I'll miss from this administration is them swapping in new Melanias and just pretending we won't notice like a 4-year-old with a guppy pic.twitter.com/8J0A4E9z5H
I like a president who doesn't have to hire a First Lady stand-in. #FakeMelania pic.twitter.com/Pp9KNds7MG
I don't get why people are all freaked out by #FakeMelania She seems nicer. pic.twitter.com/VgpIEiN2Om
But here's the thing: if you take a look at other pictures of Melania en route to the debate, it's clear that this is, in fact, her: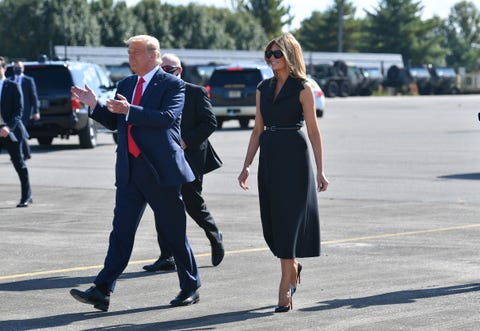 Here's another angle if you need more convincing: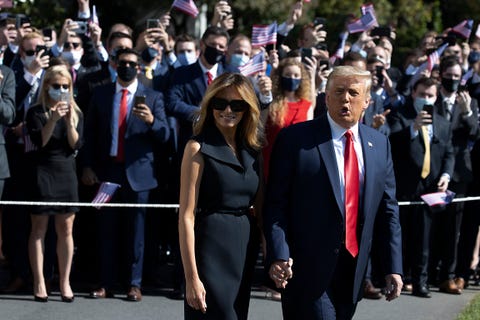 And another: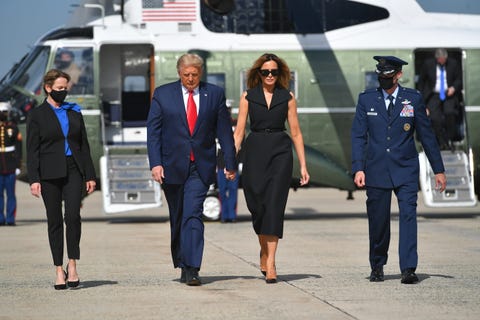 #FakeMelania Was Debunked a *While* Ago
People have been speculating about Melania using a body double for most of Donald Trump's presidency, and there's a plethora of photo "evidence:"
What happened to Melania?
Seriously? #FakeMelania pic.twitter.com/NxNy8eWaUG
Which Melania body double was most convincing? #FakeMelania pic.twitter.com/oOCCRKsbdQ
That's not Melania. That's a double. Hair is different, sunglasses all of it
The theory really took off in October 2017, when this footage of Melania looking admittedly unlike herself spread across the internet:
Snopes went ahead and debunked this post, pointing out that Melania's face looks distorted because the footage was filmed on a phone of a TV screen. The outlet even compared the footage of "Fake Melania" to the actual video available on CNN, which makes it clear that this is, in fact, Melania. Here's a side-by-side of a screen grab from the distorted footage and a screen grab of the actual footage, courtesy of Snopes: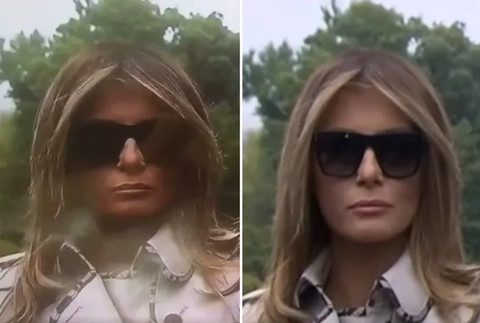 FWIW, Trump Himself Has Denied the #FakeMelania Theories
Trump's tweets should obviously be taken with several thousand grains of salt given his history of blatant lies, but he actually tweeted about #FakeMelania amid speculation that a body double had accompanied him to survey tornado damage in 2019.
The Fake News photoshopped pictures of Melania, then propelled conspiracy theories that it's actually not her by my side in Alabama and other places. They are only getting more deranged with time!
Meanwhile, Twitter was just like:
The recasting of Melania is the worst I've seen since they recast Aunt Viv in Fresh Prince #fakemelania pic.twitter.com/HDIMi7FDAh
But as you can see from footage of the day, this clearly is Melania:
In conclusion: these #FakeMelania theories? Fake.
Source: Read Full Article