Two more Australian women detained in Iran
Two Australian women have been detained in a Tehran prison after being arrested while travelling in Iran, The Sydney Morning Herald and The Age can confirm.
One of the prisoners is an Australian academic who studied at Cambridge University in England. The other is a British-Australian blogger who was detained by Iranian authorities in a separate incident.
The pair have been in custody for several months.
A third woman, Iranian-Australian dual citizen and Melbourne University academic Meimanat Hosseini-Chavoshi, was arrested in December last year as she attempted to leave the country, as previously reported by the Herald and The Age.
Hosseini-Chavoshi, who is a population expert affiliated with the Melbourne School of Population and Global Health, was charged with trying to "infiltrate" Iranian institutions.
The Herald and The Age understand discussions have been held between Iranian and Australian officials in an attempt to secure the release of the three Australians but no agreement has been reached.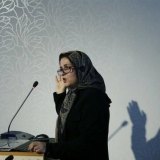 Melbourne University academic Meimenat Hosseini-Chavoshi was detained in December.
The blogger was arrested by Iranian Revolutionary Guard for camping in a military precinct around Jajrood in Tehran province, the BBC Persia reported.
The Times reported the unnamed Australian women were being held in Evin Prison, a notorious facility used to hold political prisoners.
In August the deputy chair of Iran's foreign relations parliamentary committee Kamal Dehghani Firouzabadi warned Australia's "reputation and prestige" would suffer after they joined a US-led military Coalition to protect shipping in the Strait of Hormuz.
British forces seized an Iranian oil tanker in July, claiming it was destined for Syria. Two weeks later, Iran seized British oil tanker, the Stena Impero. The Iranian tanker was later released. The Stena Impero is still being held by Iran.
More to come…
Source: Read Full Article