Dogecoin (DOGE) Futures Open Interest Spikes 40%, Signaling Possible Price Peak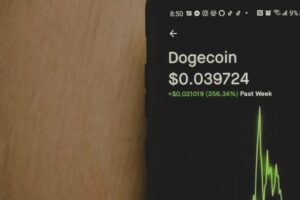 Over the past 24-hour period, Dogecoin (DOGE) futures contracts' open interest surged by around 40%, suggesting there's heightened risk appetite among traders in a trend that has historically signaled local price peaks in the realm of cryptocurrency markets.
According to data from CoinGlass, first reported by CoinDesk,  the number of open futures contracts surged to surpass the 7 billion DOGE mark – roughly $600 billion –  reaching levels that had been seeing back in April.
Notably, nearly half of the total futures positions, equivalent to $275 million, were staked on Binance, followed by Bybit at $134 million and OKX at $85 million. The longs-to-shorts ratio stands at 50% on each side, suggesting that traders might have diversified their positions to mitigate risks.
While a rise in open interest typically signals a bullish sentiment among futures traders, an excessively high or sudden spike can serve as a bearish indicator, hinting at an impending shift in market trends as traders potentially initiate short positions.
As CryptoGlobe reported, a popular crypto analyst  known by the pseudonym Crypto Tony has predicted on the microblogging platform X (formerly known as Twitter) that DOGE could also see its price surge to around $0.085 from its current level of around $0.077, The analyst noted he believes the "party is about to begin" for meme-inspired cryptocurrencies, which are tokens that are known to benefit from cryptocurrency bull markets.
s CryptoGlobe reported back in 2021, search interest for Dogecoin exploded during the cryptocurrency's massive 10,000% price rally, going from an average of 135,000 monthly searches in April 2020 to 16.5 million in April 2021.
Dogecoin was created back in 2013 as a joke. The cryptocurrency's community is well-known for taking on philanthropic projects, which included helping charitable organizations. It made headlines in 2014 after raising more than $25,000 worth of DOGE to let the Jamaican bobsleigh team attend the Winter Olympics in Sochi.
Featured image via Unsplash.
Source: Read Full Article