Biden Accuses Hamas Of War Crime For Operating Command Node Under Gaza Hospital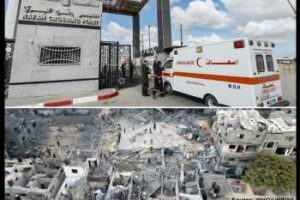 President Joe Biden has accused Hamas of committing a war crime for operating underground Hamas command centers in some hospitals in Gaza Strip.
"You have a circumstance where the first war crime is being committed by Hamas by having their headquarters, their military hidden under a hospital. And that's a fact. That's what's happened," Biden said while responding to a reporter's question during a joint news conference with Chinese leader Xi Jinping after their summit in San Francisco.
The US and Israel have claimed that Hamas and the Palestinian Islamic Jihad members operate a command-and-control node from Al-Shifa hospital in Gaza City.
Hamas and Al-Shifa hospital officials denied the allegation.
"When you weigh the target against the number of civilians inside the hospital, is the operation underway justified?," a reporter asked Biden.
"Israel did not go in with a large number of troops, did not raid, did not rush everything down. They've gone in and they've gone in with their soldiers carrying weapons or guns. They were told — told — let me be precise," Biden replied.
Biden said Washington had discussed the need for the Israeli forces to be "incredibly careful" while hunting for the militants. "You have a circumstance where you know there is a fair number of Hamas terrorists. Hamas has already said publicly that they plan on attacking Israel again like they did before, to where they were cutting babies' heads off to burn — burning women and children alive".
"And so, the idea that they're going to just stop and not do anything is not realistic. This is not the carpet bombing. This is a different thing. They're going through these tunnels; they're going in the hospital."
Biden said it has been established that "Hamas does have headquarters, weapons, materiel below this hospital and, I suspect, others."
He made it clear to the Israelis that "it's a big mistake for them to think they're going to occupy Gaza and maintain Gaza."
Al-Shifa Hospital, which is the largest medical complex in Gaza, has been reportedly attacked multiple times, leaving several people dead and many others injured. The intensive care unit suffered damage from bombardment, while areas of the hospital where displaced people were sheltering have also been damaged.
WHO said that tens of thousands of displaced people who had sought shelter on the hospital grounds are fleeing the area amid horrifying reports of the hospital facing repeated attacks from Israeli forces. There are reports that some people who fled the hospital have been shot at and killed.
Source: Read Full Article