Ethereum stalls after record high but here is why Fundstrat analyst believes it is $10,500 token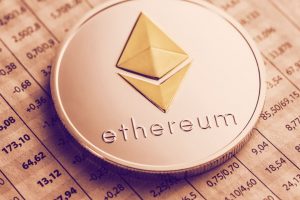 Ethereum majestically rose to new all-time highs at $1,446. However, the anticipated rally seems to have taken a step back with Ether first dropping to confirm support at $1,250. Recovery has been gradual over the last 24 hours but ETH is dancing at $1,380.
Slightly on the upside, the pioneer smart contract token is dealing with the resistance at the ascending channel's middle boundary. Bearish momentum appears to be building under this level. Ether's short term technical picture looks ready to drop for another support confirmation before any significant recovery comes into the picture.
A glance at the Relative Strength Index hints at the bearish grip continuing to get stronger in the near-term. The RSI was recently rejected at the overbought area while at the same time recovery from a dip under the midline is struggling below 60. Moreover, the attempt to break from the RSI's bearish divergence failed to catch momentum, thus adding credibility to the downtrend.
ETH/USD 4-hour chart
7:19 AM
Despite the pessimistic outlook, David Grider, an analyst from Fundstrat Global Advisors, believes that Ethereum has what it takes to rise to $10,500 by the end of 2021. Grider's prediction finds backing from the growing decentralized finance sector, which mainly runs on Ethereum. He reckons that "blockchain computing may be the future of the cloud." In his opinion, Ethereum currently is "the best risk/reward investment play in crypto."
The main focus for Ethereum is to complete the development of ETH 2.0 which will see it fully execute on the Proof-of-Stake consensus. A high transaction throughput coupled with the sharding technology for scaling with ensure that Ethereum remains the go-to platform for smart contract building. All these increase the platform's utility and will eventually trickle down to the growth in the token's value, perhaps towards $10,500.
Ethereum intraday levels
Spot rate: $1,332
Relative change: -45
Percentage change: -3%
Trend: Bearish
Volatility: Low
To keep track of DeFi updates in real time, check out our DeFi news feed Here.

Source: Read Full Article