Growth DeFi On Fantom: Expanding A Novel Cross-Chain Ecosystem For Sustainability And Maximum Benefits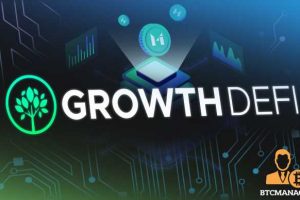 Growth DeFi is ramping up at a rapid pace to maximize capital efficiency and value by leveraging the power of DeFi protocols. With a vision to completely redefine the cross-chain ecosystem, Growth DeFi has revealed plans to launch on Fantom (FTM),  a highly scalable blockchain platform for DeFi, crypto dApps, and enterprise applications.
This expansion is geared towards delivering maximum value and efficiency while ushering the ecosphere into a new phase of sustainability with a bonds-based approach.
Before announcing its expansion plans to Fantom, Growth DeFi had recorded successful launches on Binance Smart Chain and Avalanche which gave it the opportunity to improve its system with a focus on high yields for holders and investors, sustainable tokenomics, and maximum benefits for the project's community. You can expect that Growth DeFi will now apply the best approaches to subsequent chains from the outset, and its launch on Fantom will massively benefit from this.
Utilizing The 'Bonds-Only' Approach For A Strengthened Ecosystem
Growth DeFi is utilizing a bonds-based approach to further strengthen its ecosystem. Fantom will be Growth DeFi's first chain expansion with a 100% bonds-based launch and this means there will be no LP mining.
Olympus Pro bonds are already live on Fantom, and this strategy suggests that Growth DeFi will easily access deep liquidity from the very start and temper the high levels of WHEAT token price volatility it earlier experienced in the previous launches on Binance Smart Chain and Avalanche.
The bonds-only approach Growth DeFi seeks to integrate is poised to offer a list of benefits to the project and its system. For example, after Growth DeFi launched on Avalanche, approximately $4M was paid out to liquidity providers in exchange for their services. However, with this new partnership with Olympus DAO, there will be no need to call for the services of LPs. As it launches on Fantom, the Growth community benefits largely from building protocol-owned liquidity from the very beginning and the value flows directly to holders of the protocol's native token, earning them much more rewards.
The bonds-based concept is one of the key aspects of emerging plans for Growth DeFi on Fantom and it is positioned to help the project deliver exceptional value.
WHEAT (FTM) Airdrop: A Chance to be Part of an Exciting Project
$WHEAT is the Growth ecosystem's incentive token that can be obtained through the staking of GRO, MOR, or WHEAT. Growth DeFi has decided to airdrop WHEAT (FTM). The airdrop is slated to take place within a week after the launch on Fantom.
WHEAT (FTM) will be airdropped 60% and 40% to BSC WHEAT and Avalanche WHEAT holders respectively. If you would like to partake in the airdrop, you must have your WHEAT staked in either chain's WHEAT auto-compound vault as your eligibility status largely depends on this. Through this medium, Growth DeFi seeks to offer users the opportunity to be a part of the new and exciting step in its ecosystem.
The Concept of EBC (Exponential Buyback Collector)  
Growth DeFi also intends to obtain Exponential Buyback Collector (EBC) assets. The project is exploring the opportunity to implement new WHEAT EBC strategies, such as TriCryptoV2 through Curve Finance, that can be amassed over time through bonds in line with its long-term growth and buybacks objectives. This will mean EBCs focused on holding high-quality underlying collateral, including, governance OHM, BTC, ETH, and stablecoins. For the TriCrypto EBC, since it holds 1/3 USD, 1/3 BTC, and 1/3 ETH, we can say it's a semi-bullish asset that you can hold at any period.
Funding gained from WHEAT's bonds with Olympus Pro is used to strengthen the EBC strategy. The more assets the EBCs stake, the more the buybacks and burn WHEAT. Notably, only the proceeds of these EBCs will be used for the buyback and WHEAT burn process. The input never gets spent. This concept is targeted at providing constant buy pressure for WHEAT as the WHEAT EBC balances only ever increase.
Overall, just as with Avalanche and BSC, Growth DeFi is looking at building mutually-beneficial arrangements on Fantom that will add tremendous value to its ecosystem.
Related posts:
Source: Read Full Article