Nord Finance Continues to Unfold Strategic Partnership with Orion Protocol after the Successful IDO Launch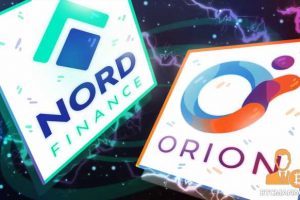 Nord Finance, a blockchain agnostic platform, is an advanced decentralized financial ecosystem that simplifies decentralized finance products for users by highlighting traditional finance's key attributes. Deployed on the Ethereum Network, it integrates multi-chain interoperability, thus proposing a plethora of financial primitives, which constitute savings, advisory, loans against assets, investment/funds management, and swaps.
Nord Finance is a next-gen advanced decentralized financial ecosystem to serve the rising needs targeting novice users and professionals to meet their financial goals.
Nord Finance: DeFi Sustainability to contribute to the unwavering efforts of mass adoption
Nord Finance upholds its fundamental values, making it an optimal choice for decentralized operations constituting DeFi investments, savings, borrowing, lending or swaps. In the last quarter, Nord Finance has successfully demonstrated a massive growth by uniting forces with several DeFi innovators, thus unlocking the DeFi space's potential. Whilst providing flexibility, Nord Finance aims to drive DeFi adoption to the masses by encouraging new entrants through its smart and intuitive solutions. Its latest partnership with Orion Protocol focuses on redefining sustainability with synergized efforts to boost liquidity, accessibility, and interoperability in the DeFi sphere. The partnership demonstrates how mutual integration of two diverse ecosystems can complement each other most optimally. 
Under this partnership's purview, Nord Finance will access Orion's ecosystem constituting products such as Orion Liquidity Pool, Orion Lending, Orion Oracle, Orion Wallet Swap SDK, and Orion Liquidity Boost Plugin. Each platform will impart immense value to the Nord ecosystem by providing adequate liquidity solutions and seamless integration into the applications. The Orion Liquidity Pool and Orion Lending will facilitate injecting fair liquidity provisions.
Also, the Orion Lending will allow experimenting various automated investments strategies through the Nord Savings product. The partnership assents the seamless integration of Orion Oracle to Nord Finance to reinforce the importance of reliable and accurate data in a trustless ecosystem. The Nord products will efficiently employ Orion's Swap SDK to allow users to access assets through third-party wallets instead of exchange wallets, thus facilitating user experience. The integration of Orion Liquidity Boost Plugin will provide extensive access to exchange's liquidity. Considering the dynamic DeFi environment, Orion Protocol will serve as an integrated solution for Nord Finance to soar in the DeFi landscape. 
Nord Finance revolutionizes the DeFi sphere through strategic partnerships with DeFi innovators
Earlier, Nord Finance expanded its possibilities beyond measures by forging valuable collaborations with DeFi titans such as Frontier, Unilend and Zokyo, which has extensively contributed to breaking down the barriers of open bridging the gap between the dynamics of traditional finance and decentralized finance. Nord finance believes that strategic bonds are the ones to fuel decentralization, thus accelerating a financial paradigm amidst centralized finance concerns.
With the Nord token launch, we are more focused on enhancing our product's utility to drive high engagement levels, thus providing users with a storehouse of value built on trust and integrity norms.
Source: Read Full Article