Asset Management Giant BlackRock Hints at Investing in Bitcoin Futures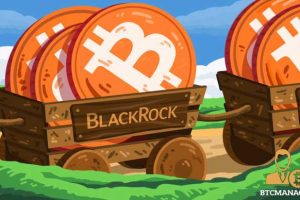 BlackRock, the world's largest multi-trillion dollar asset manager, is considering investing in Bitcoin futures through two of its funds. 
BlackRock's Funds Contemplating Bitcoin Futures Investment
In a pair of filings with the U.S. Securities and Exchange Commission (SEC) on Wednesday (Jan. 20, 2021), Blackrock revealed that two of its funds may include b. The funds are BlackRock Global Allocation Fund, Inc and BlackRock Fund V.
Meanwhile, the filings were specific about the nature of bitcoin futures that the funds may trade. According to the documents, the BlackRock funds may only invest in cash-settled bitcoin futures traded on exchanges registered by the U.S. Commodity Futures Trading Commission (CFTC).
An excerpt from the SEC filings stated:
"Each Fund may use instruments referred to as derivatives, which are financial instruments that derive their value from one or more securities, commodities (such as gold or oil), currencies (including bitcoin), interest rates, credit events or indices (a measure of value or rates, such as the S&P 500 Index or the prime lending rate)."
The documents, however, noted the risks associated with bitcoin futures investment and the market was not yet mature and could come with illiquidity risk. BlackRock's filings added:
"Regulatory changes or actions may alter the nature of an investment in bitcoin futures or restrict the use of bitcoin or the operations of the bitcoin network or exchanges on which bitcoin trades in a manner that adversely affects the price of bitcoin futures, which could adversely impact a Fund."
While BlackRock did not state when the funds would actually start investing in bitcoin futures, the SEC filings indicate that the asset management company is weighing its options with the number one crypto asset.
Meanwhile, BlackRock had once considered entering the BTC futures market. Back in 2018, the asset manager set up a working group that would examine the company's possibilities of venturing into bitcoin futures.
As reported by BTCManager in December 2020, BlackRock CEO Larry Fink noted that bitcoin could evolve into a global digital asset. The BlackRock CEO's bullish opinion on the flagship crypto signalled a u-turn from an earlier negative sentiment, where Fink believed that bitcoin was an instrument for money laundering.
BTCManager also reported in December a BlackRock job posting looking to hire a Vice President, blockchain lead.
Source: Read Full Article