Bitcoin Price Crash Likely Due to Liquidation of Over-leveraged Longs, Says Kain Warwick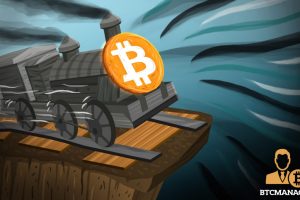 With Bitcoin (BTC) price dipping over 28 percent, several crypto stakeholders are trying to explain the reason for the decline. For Synthetix founder Kain Warwick, the reason is most likely tied to optimistic bets in the BTC futures market being caught unawares by periodic profit-taking.
New Money Flowing into Bitcoin is Highly Leveraged
Tweeting on Monday (Jan. 11, 2021), the Synthetic founder in a tweet thread commented on Bitcoin's recent price decline. In Warwick's opinion, such price corrections were a result of "overleveraged longs".
According to the self-styled "former semi-benevolent dictator" of the Synthetix project, Monday's decline was not triggered by bulls dumping on the market. Warwick noted that Bitcoin's upward movement could have resulted from the influx of institutional money into the flagship crypto asset. The Synthetix founder adds that if that was the case, then it is likely that institutional investors were not unloading their bags based on a 5 percent dip, nor did they buy BTC with leverage.
For Warwick, traders with exposure to Bitcoin over multiple price cycles typically shave off profits amid any significant upward advance. Considering the over 40 percent parabolic increase in BTC price over the first week of 2021, it was unsurprising that bagholders would want to take profit as Bitcoin crossed $40,000.
Commenting on the 28% price dip, Warwick noted:
"The problem with this is that the new money coming in and pushing the price up is highly leveraged, and the people with the most conviction are mainly holding and so while they might buy some dips they probably don't have the dry powder to soak up huge liquidated positions."
The Synthetix founder also noted that the correction did not result from long-term BTC holders who were suddenly selling-off, but from "longs being liquidated or delevered."
According to Warwick, if his thesis is correct, then there should be an upward bounce when the U.S. trading time commences. Institutional investors may even see the 28 percent decline as an opportunity to acquire more BTC on the cheap.
Popular crypto analyst and trader Lark Davis advised retail investors not to panic sell during BTC price correction, as whales would be waiting to buy up the bitcoins. According to Lark, institutional players are not going aiming at a 5 percent gain, instead, they are going to buy the dip, increase their bitcoin portfolio, and hold bitcoin for a long time.
Source: Read Full Article