Bitcoin Supply Held by U.S. Entities Spike Following BlackRock's Spot Bitcoin ETF Application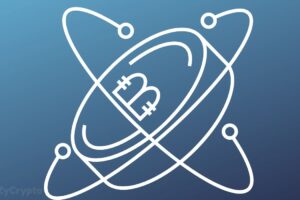 According to data from Glassnode, the Bitcoin network has seen an upsurge in the amount of Bitcoin held by market players. Notably, this uptrend was spotted amongst Bitcoin holders in the United States.
Glassnode asserted that the new development was triggered by BlackRock's recent announcement concerning its spot Bitcoin ETF application. The new development signals a potential inflection point in the asset's supply dominance if the trend continues.
"Following the Blackrock Bitcoin ETF request announcement on June 15th, the share of Bitcoin supply held/traded by US entities has experienced a notable uptick, marking a potential inflection point in supply dominance if the trend is sustained."
The price of Bitcoin could also benefit from the success of the Bitcoin ETF request, as it will become the first spot Bitcoin ETF in the country. 
In a recent interview with Fox News, Larry Fink, the CEO of BlackRock, made some bullish remarks about Bitcoin, as he explained that the asset is pioneering the digitalization of gold differently.
"I do believe the role of crypto is [that] it's digitizing gold in many ways. Instead of investing in gold as a hedge against inflation, as hedge against the onerous problems of any country, or the devaluation of your currency.. let's be clear: Bitcoin is an international asset, it's not based on any one currency, and so it can represent an asset that people can play as an alternative." Fink asserted.
Sentiments around BlackRock's spot Bitcoin ETF filing are mixed at this time. While some market participants are positive that the ETF proposal by the $10 trillion asset manager could usher in more institutional investors, others insist that the ETF poses a more significant risk to the Bitcoin market.
Notably, Cathie Wood, the CEO of Ark Invest, stated that the SEC would likely reject BlackRock's ETF proposal. Speaking to Fortune Crypto in a recent interview, Wood is quoted saying; 
"We [Ark Invest] know that there was a surveillance clause in their prospectus that ours didn't include, but what I'm told is it won't take much time for us to amend our prospectus, and that all of the exchanges are moving in this direction."
At report time, Bitcoin is trading for $30,274. After clearing hourly losses, Bitcoin seems to be positioning itself for a comeback. The apex cryptocurrency could retest its recent high of $30,403 in the near term.
Source: Read Full Article