$BTC: Why Peter Schiff Believes You Should 'Sell Your Bitcoin if You Can'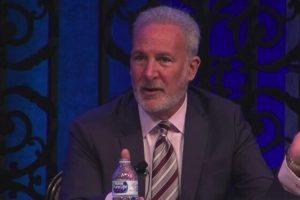 On Friday (11 November 2022), in the aftermath of the collapse of the FTX empire, gold bug Peter Schiff recommended to those who could sell their Bitcoin to do so while they still could.
Bitcoin perma-bear Peter Schiff, who is one of Bitcoin's harshest critics, is the CEO of Euro Pacific Capital, a full-service, registered broker/dealer specializing in foreign markets and securities. He is also Founder and Chairman of SchiffGold, a full-service, discount precious metals dealer.
Schiff's comments were made following an announcement by crypto lender BlockFi that it was pausing client withdrawals:
As you may remember, on 1 July 2022, BlockFi CEO Zac Price announced that his firm had signed an agreement with FTX US under which the latter it would receive a $400 million revolving credit facility from FTX US and give the option to FTX US to acquire BlockFi at a variable price (between $25 million and $240 million, based on performance triggers):
Anyway, on the same day, Schiff went on to make further comments about Bitcoin and FTX:
"SEC regulation would not have prevented the FTX fraud. Bernie Madoff was regulated by the SEC the entire time he ran his Ponzi Scheme. The free market is the best regulator, except when central banks create financial manias that turn intelegent investors into complete fools.
"A year ago Bitcoin hit $69,000. One of the main reason for the spectacular rally was all the leverage that funded unprecedented crypto advertising and speculative buying. The FTX bankruptcy proves the entire rally was a fraud. It will never be repeated. Bitcoin mania is over.
"The reason novogratz was able to cash out of so much Bitcoin and other crypto related assets was that CNBC gave him and other crypto insiders a one-sided platfrom to constantly pump exactly what he needed to dump. The whales sold as they suckered the minnows to buy and HODL.
"The Grayscale Bitcoin Trust launched its "Drop Gold" campaign in May 2019. The ad spend pushed the price of GBTC to $17.40 that month. Had you dropped $10K worth of gold and bought $GBTC at that time, you would now have $5K left. Had you kept gold it would now be worth $13.5K."
Source: Read Full Article