Canadian Union Unifor Agrees To Ford Deal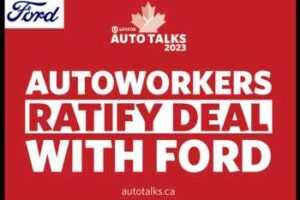 Amid the ongoing strike by U.S autoworkers against the Big Three over demands for better pay and benefits, Canadian auto union members ratified a new three-year collective labor agreement with Ford Motor Co.'s Canadian unit., preventing possible walkouts.
In a statement on Sunday, Unifor, the Canadian general trade union, said its Ford members voted 54 percent in favour of the new tentative agreement, which will expire on September 20, 2026. The deal covers more than 5,600 workers at Ford facilities in Ontario, as well as its parts distribution centers in Bramalea and Paris, Ontario, and in Alberta.
Under the new contract, Ford has offered base hourly wage increase of nearly 20 percent for production workers and 25 percent for trade workers. There will be general wage increases in each year of the agreement, with 10 percent for the first year followed by increases of 2 percent and 3 percent through the second and third years. It also includes a $10,000 productivity and quality bonus for full-time employees, along with many other benefits.
Unifor National President Lana Payne said, "Our bargaining team showed exceptional leadership and successfully pushed Ford of Canada on every front. This contract will change lives in a profound way. It fundamentally transforms pension plans, provides protections during the EV transition and includes the highest wage increases in the history of Canadian auto bargaining."
The move comes as United Auto Workers or UAW, the striking union in the U.S., has significantly expanded its walkout to various plants of General Motors, and Chrysler parent Stellantis, while it skipped further Ford plants.
About 12,700 UAW members had started their Stand Up Strike at one each plant of Detroit's Big Three by September 15 after the expiration of the then four-year collective bargain agreement ended without reaching deals with the workers.
Last week, UAW President Shawn Fain had warned about expanding their strike if no deals were reached by last Friday. By Friday morning, Fain announced that the union was expanding strikes to 38 parts and distribution locations across 20 states for GM and Stellantis.
Meanwhile, the union did not initiate further strikes at Ford plants stating that there is real progress in talks with the automaker. However, the already striking workers at its Wayne, Michigan, assembly plant would continue their walkout.
Source: Read Full Article