Crypto Market Cap Finally Surpasses $1 Trillion Mark, What's Next?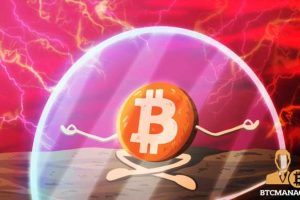 In just one week in 2021, the entire cryptocurrency market's total capitalization has finally surpassed $ 1 trillion.
According to data from Coinmarketcap, the entire crypto market is worth more than $ 1 trillion, beating the highest estimate to date of $820 billion in January 2018.
With a total current market cap of $690 billion, Bitcoin accounts for nearly 70% of the total cryptocurrency market cap. Ethereum has also experienced a fruitful boom in value in recent months. The current market value is more than $1,200 for ETH, and the total market cap is around $137 billion.
Crypto Adoption Is Gaining Steam
The $1 trillion market cap mark is driven by the ongoing downturn, particularly in Bitcoin, driven mainly by large institutional investments in the most popular cryptocurrencies in the past six months.
Jack Purdy, an analyst at Messari, said the $1 trillion mark strengthens crypto as an investable asset class. It no longer sits on traditional finance fringes as a toy for retail investors.
Some of the significant investments came from companies such as tech firm MicroStrategy, which raised more than 70,000 BTC, and London-based wealth manager Ruffer Investment, who spent $ 740 million in Bitcoin at the end of 2020.
Wang noted that cryptocurrency is now almost a guarantee that institutions can venture. The final market is liquid enough to mobilize large amounts of capital, but still early enough to earn a tenfold return.
For some investors, that return comes from altcoins. As Bitcoin continues to rise above $ 30,000, the altcoin index has gained momentum.
For the FTX market, the top 10 altcoin index is up more than 30% in 2021. The "Shitcoin" index, which shows altcoins with microcaps, also rose more than 20% in January.
Bullish Sentiment Remains
While 2021 just began, the cryptocurrency market boom could continue in the future, according to various cryptocurrency analysts. US investment banking company JP Morgan has predicted to investors that Bitcoin will hit $ 140,000.
Fundstrat's Tom Lee also made a similar forecast for 2021, seeing a 300 percent appreciation in Bitcoin, hence surpassing $ 100,000 over the next 12 months. Another well-known analyst, Willy Woo, has also proposed several ideas that suggest that the specter for Bitcoin will continue in 2020.
In conclusion, Maddrey said that crypto is in a unique position to become the most crucial asset class of the 21st century, and there is still a lot of room for growth.
Source: Read Full Article