eToro Crypto Exchange Overwhelmed by Insatiable Bitcoin Demands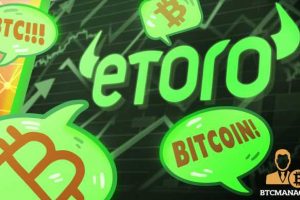 eToro has sent a letter to its millions of customers on January 13, 2021, notifying them that it may not be able to handle their bitcoin (BTC) buy orders in the coming weekend, as the insatiable demand for the orange coin is surpassing its liquidity capacity.
Crazy Bitcoin Demand Crashes eToro
The price of bitcoin (BTC) is showing no signs of crashing in 2021, as crypto enthusiasts and big whales continue to increase their BTC positions and hodl onto their dear coins, triggering a massive liquidity crisis on exchange platforms.
In the latest development, eToro, an Israel-based cryptocurrency exchange that claims to have more than 17 million registered users, has notified its clients that it's finding it difficult to keep up with the massive demand for bitcoin, and as such, it could place a limitation on their buy orders over the weekend.
The exchange has also hinted that it could widen the spreads on its supported cryptocurrencies significantly, as part of measures to handle the demand.
eToro wrote:
"We would like to give you advance notice of possible limitations to crypto BUY orders this coming weekend. We are seeing unprecedented conditions in the crypto markets, which have led to increased demand for crypto from eToro users, both old and new. We are doing all we can to manage this demand and to maintain the best possible customer experience."
The Numbers 
According to a tweet by Brad Michelson, eToro's marketing manager, the exchange platform has recorded a whopping 380,000 new accounts in the last 11 days, and its bitcoin trading volume is now 25 times higher than that of 2020.
What's more, the exchange platform has also increased the minimum deposit amount for new users from $200 to $1,000, while also placing restrictions on crypto margin trading for its European customers.
It's worth noting that eToro is not the only exchange being pushed to its limits during this bull season, as heavyweights like Coinbase recently suffered a serious outage, while Binance trading volume surpassed $30 billion on January 12, though things have cooled down a bit on the exchange as its daily trading volume currently sits at just over $14 billion.
At press time, the price of bitcoin (BTC) is up by 14.17 percent in the last 24-hours, trading at $38,694, with a market capitalization of $719.72 billion, as seen on CoinMarketCap.
Source: Read Full Article