Q4 Brings Hope for Bitcoin Reaching $40,000, Says Michaël van de Poppe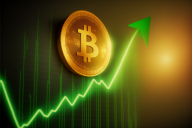 Michaël van de Poppe, a noted crypto analyst, has set a positive tone for the upcoming fourth quarter, affectionately terming it "Uptober." He outlines several factors that could make the next three months particularly promising for Bitcoin and the larger cryptocurrency market. Among these factors are the potential approvals of cryptocurrency exchange-traded funds (ETFs) and an anticipated pre-halving price boost.
In the view of van de Poppe, a Bitcoin valuation of $40,000 is not out of the question within the current quarter. He posits that these encouraging market conditions may lay the groundwork for achieving this price point.
This prediction came just hours after the U.S. Senate narrowly avoided a government shutdown by passing a short-term spending bill on Saturday (September 30) night, just three hours before the federal government was set to close its doors.
According to a report by CNBC, President Joe Biden promptly signed the bill into law, ensuring that the government remains operational for the next 45 days. This interim measure, officially known as HR 5860, gives both the House and Senate additional time to finalize their budget plans. Crafted by House Speaker Kevin McCarthy, the 71-page bill allocates funds for disaster relief but does not extend any new financial aid for Ukraine's ongoing conflict with Russia.
Earlier in the day, the House of Representatives had also approved the stopgap spending bill with a vote of 335 to 91. The House is set to resume its legislative activities on Monday.
On 30 September 2023, just a day before heralding the start of "Uptober," Michaël van de Poppe urged his followers to secure their positions in Chainlink (LINK), Bitcoin (BTC), and Ethereum (ETH). According to van de Poppe, the bear market is nearing its end, and the subsequent upswing promises to be substantial. He offered congratulations to those who have been accumulating and holding onto their crypto positions, emphasizing that their strategy is likely to pay off in the bullish quarter ahead.
Featured Image via Midjourney
Source: Read Full Article