Concordium Becomes First Blockchain Member of FinTech Association of Japan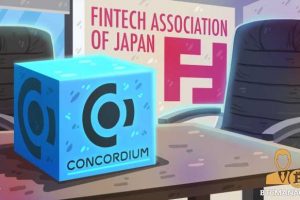 Enterprise blockchain Concordium has been admitted into the FinTech Association of Japan (FAJ), the non-profit focused on furthering financial innovation. While its remit is centered around Japan, the influence of the FAJ extends much further thanks to corporate members that include leading global fintechs. PayPal, Visa, and JP Morgan are among the enterprises affiliated with the association, which is one of the most influential fintech bodies operating in the industry.
Concordium's entry into the group will enable the blockchain project to pursue dialog concerning the best way to drive adoption of its enterprise-friendly network. The blockchain has been designed to support identity management, with the goal of enabling businesses to transact in a private yet regulatory compliant manner. This is achieved in conjunction with zero-knowledge proofs that allow for the veracity of information to be calculated without revealing its content.
Bringing Privacy to Public Blockchain
The information broadcast on public blockchains can be inspected by anyone, allowing third parties to view transactions being transmitted between counterparties, including the amount being sent. This is a core feature of public blockchains such as Bitcoin, allowing them to be independently verified using any common block explorer. However, this ability comes at a price in terms of privacy. Enterprises, for example, would be reluctant to use any public blockchain that broadcasts sensitive financial information.
Concordium's solution allows for the best of both worlds: the openness and universal access of a public ledger coupled with the ability to shield transactions so that only sender and recipient can view their content. There is one exception to this rule: there is a revoke feature built in that allows regulators to view specific transactions, but only in circumstances where they are legally entitled to do so.
Commenting on Concordium's entry into the Fintech Association of Japan, CEO Lone Fønss Schrøder said: "We are working to increase the understanding of how public blockchain can be used to effect positive change and drive fintech innovation. 
"It's a privilege for Concordium to join the global leaders contributing to the FAJ efforts. We are looking forward to advancing ideas for improving the fintech space, through pioneering compliant systems that capitalize on public blockchain's unique properties."
Building Bridges With Financial Regulators
Recognizing that enterprise adoption of blockchain must occur within a regulated environment, Concordium has packed its team with experienced C-level execs and advisors who have deep ties to the financial and tech industries. Former NASDAQ Vice-Chair Hans-Ole Jochumsen and Michael Jackson, Skype's former COO, are on its advisory board. It's also well equipped on the tech front, thanks to the likes of Prof. Ivan Damgård, one of the world's most respected cryptography researchers.
Given Japan's reputation as a hub of tech innovation, Concordium is likely to find a receptive audience there for its blockchain-based digital identity solution. In gaining membership of the FinTech Association of Japan, the company is now positioned to pursue opportunities within the country as it seeks to drive adoption of its privacy-first blockchain, whose mainnet is on course to launch in Q2.
Source: Read Full Article