Creative Director of the NBA Cleveland Cavaliers, Daniel Arsham, mints his First NFT Collection on CXIP for Listing on Nifty Gateway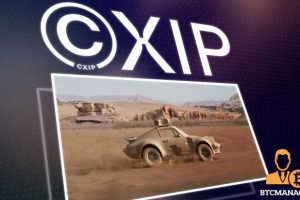 Daniel Arsham, the internationally acclaimed digital artist based in New York, has released his first-ever NFT collection, Eroding and Reforming Digital Sculptures: Cars, on the interoperable CXIP NFTs minting platform before listing on the Nifty Gateway, a premier NFT marketplace on December 22, 2021, at 7:00 pm EST.
Daniel Arsham Collaborates with CXIP
As per a press release on December 21, Daniel will be one of the first artists to mint on the NFT specializing platform, CXIP. While Daniel highlights the benefits of the CXIP NFT minting platform, it will also be the first time the Nifty Gateway marketplace lists CXIP-based NFTs.
Daniel's work revolves around the concept of fictional archeology. He mainly works between sculptures, architecture, drawing, and film. Most importantly, he is renowned for creating "future relics of the present" while also working as the Creative Director of the NBA Cleveland Cavaliers in the U.S.
Commenting about the partnership and working in the capacity of the Chief Brand Officer, the artist said:
"I'm excited to partner with groundbreaking platform CXIP as minter of my latest series of NFTs, Eroding and Reforming Digital Sculptures: Cars. In keeping with my other physical and digital works, which operate on different time scales, these works use the time of specific rallies as their clocks, imagining a scenario at a well-known race that may exist in the past, present, or future. I look forward to the evolution of the work CXIP, and I will do together."
Listing of CXIP NFTs on Nifty Gateway a Landmark Decision
Meanwhile, the decision by Nifty Gateway to accept CXIP NFTs is a landmark decision. It will be a significant step towards empowering blockchain creators like Daniel. Jeff Gluck, the CXIP Founder and CEO, said their new Chief Brand Officer is one of the greatest artists:
"Nifty Gateway is a pioneering marketplace in the NFT space and continues to take strides in advancing their creator-first mission. Their landmark decision to use CXIP's NFT minting is a major step forward towards empowering Web3 creators to have true creative ownership, cross-market royalties, and on-chain provenance."
The CXIP DAO
In November, the minting software released the CXIP DAO, an autonomous organization comprising NFT creators. Users who have ever minted NFTs on the Ethereum mainnet could claim CXIP and become part of the global DAO.
Related posts:
Source: Read Full Article