StarCrazy Changing the Play-to-Earn Gaming World: Planet Land Sale Is Here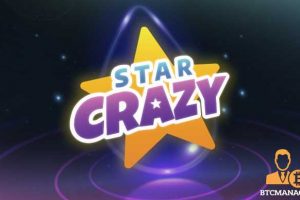 StarCrazy is one of the most popular NFT games on the market today. And there's good reason to pay more attention to this game that people are already getting hooked on. P2E (Play-to-Earn) games are grabbing headlines in the NFT world and generating eye-popping income. That's why serious attention is being given to new GameFi offerings including the fast-rising NFT and P2E game, StarCrazy. What's behind the game's fast rising popularity? Read on!
StarCrazy: Already Live and Getting More Popular
StarCrazy is attracting more and more P2E players and has already established quite a great reputation. Just a few months since its launch, it has already shown the GameFi and NFT gaming world how great it is for players. What do I mean by this? StarCrazy has over 5000+ active users, and has spurred more than 3,000,000 transactions since its launch. One of its tokens, GFS, is 100% player-owned, taking P2E to the next level for every player involved. Moreso, every player holding GFS gets a cut of each transaction in the game. Clearly, StarCrazy is making a mark and is changing the P2E gaming landscape. The reason? StarCrazy is fun, affordable to join and generous with rewards.
StarCrazy Combines the Best of GameFi and NFT Gaming
StarCrazy is primarily an NFT card-based game with a highly dynamic mechanics and GameFi ecosystem. The NFT Starz are cat-like creatures with a combination of traits ranging in rarity and abilities. Aside from the Starz which can be traded at auction or sold in the market, there are different game facets that gamers can tinker with to improve their P2E experience. Starz can have different digging powers for mining, depending on their physical attributes and rarity.
But the benefits don't stop there. There are more features for staking and creating a passive income stream. As time goes on, the game is gaining even more traction and more features are being rolled out.
The Starz can be sent to the StarMine to mine GFT, and the number of GFT earned per day depends on the total digging power of the Starz sent to the mine. Two Starz can also be fused to try to produce a Starz with rarer attributes and higher digging power. The interplay of the various game features makes the StarCrazy experience compelling for all types of players.
"StarCrazy uses the IoTeX blockchain which is super fast and super cheap. That is what makes it so sticky for the players. It's fun, it's fast and anyone can earn money." Marcos Dinnerstein, Content Visionary, IoTeX.
Players itching for more action will be reassured by StarCrazy's battles. Battling isn't quite ready, but it's expected to be during the first quarter of 2022. (Shhh! We know someone on the inside) And the GameFi community is already abuzz with the prospect of having a newer and better Axie Infinity alternative. StarCrazy is a highly viable alternative with a much more affordable cost to join and better earning potential.
Soon, players will be able to own planets which are also NFTs. Planets will be purchased with GFS, the 100% player-owned token, giving players full ownership. There is still so much to be learned about just how these planets can change the StarCrazy universe but we know that planet owners will be able to earn tokens by staging battles on their planets. And different planets will affect the battling abilities of your Starz.
Some planets will buff your characters. Now you'll be able to strategize the best Starz to field in battle. But don't get smug! Your opponent is no fool and will be doing the same. We're all eager to see how that plays out when Planets are finally released. The game is surely going to be more exciting with these additional NFTs.
(Sample StarCrazy Planets Lineup)
StarCrazy's Token Burning Means Growth and Sustainability
StarCrazy is planning on being around long term, and has a clear roadmap that reflects that. StarCrazy's tokenomics – including the burning of tokens as one of its sustainability mechanisms – is a major strength of the platform. 20% of the community share per transaction is burned and removed from circulation. As can be learned from many other tokens and cryptocurrencies, deflationary policies like burning of tokens make the entire system more viable and sustainable. Players also benefit from the burning with the increase in the value of their retained token holdings. The decrease in the supply of the tokens increases the value of these tokens. When there are fewer tokens, each token will be more valuable.
StarCrazy Rewards P2E Players Fairly
StarCrazy engages in the fair distribution of rewards, with a transparent policy on the allocation of community shares. As mentioned, StarCrazy's native governance token, the GFS, is 100% owned by the players, meaning no retained governance tokens for the game developers. This means that as StarCrazy evolves, players will be more and more invested not only in the actual game but also in its earning potential. As an analogy, governance tokens are a bit similar to shares of stock, with the holder of these tokens getting a say in the future direction of the game. Future decisions will lie in the hands of the GFS holders and earnings will accompany such a decentralized system as well.
StarCrazy is the future of GameFi
Overall, StarCrazy is a well-developed game, clearly planned for incentivized growth and decentralized control. Players are rewarded by both a satisfying gaming experience and a real opportunity to earn. It is exciting to see just what the future holds for this amazing and innovative P2E game.
Related posts:
Source: Read Full Article