Tokenized Traditional Assets, Not Cryptocurrencies, Are J.P. Morgan Clients' Main Concern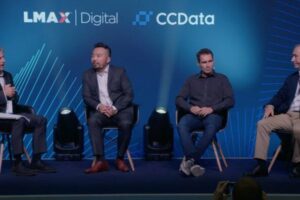 On Tuesday, Tyrone Lobban, Head of Blockchain Launch and Onyx Digital Assets at J.P. Morgan, spoke at CCData's Digital Asset Summit (CCDAS) in London.
Lobban spearheads the Blockchain Program at J.P. Morgan, where he is tasked with formulating and implementing blockchain solutions that cater to both the firm and its clients. Before stepping into this role, he was a key figure in J.P. Morgan's Blockchain Center of Excellence as a Senior Blockchain Product Manager. He also led the development of Quorum, a publicly available Ethereum-based blockchain framework designed for enterprise applications. Tyrone transitioned to the blockchain division in 2015, following a stint as a software engineer in the firm's Credit Markets unit. Additionally, he has overseen the successful execution of large-scale strategic projects across various departments within J.P. Morgan, including those related to risk management and trading systems.
While speaking at a panel (title: "How Institutions Are Shaping the Digital Asset Landscape") moderated by Philip Stafford, Editor of FT Trading Room at Financial Times, Lobban revealed that an overwhelming majority of his client interactions—99.9% to be exact—are focused on the tokenization of traditional financial assets rather than cryptocurrencies.
Lobban emphasized that there is significant interest in bringing conventional assets into the blockchain ecosystem. He noted that in the past year, almost every major global bank, broker-dealer, or asset manager has initiated some form of blockchain activity, whether on a permissioned or public blockchain. Lobban described the current initiatives as more akin to pilot projects but stressed that the commitment to explore blockchain's potential is unmistakable.
Per Decrypt's report, on the subject of cryptocurrencies, Lobban attributed the recent decline in enthusiasm to a series of industry bankruptcies. He also mentioned that certain clients are currently hesitant to get involved in the cryptocurrency space, stating that "some clients just do not necessarily want to be involved right now."
Lobban also touched upon the recent price stability of Bitcoin, suggesting that it might be evolving into something resembling a stablecoin. He further speculated that the era of enormous returns on Bitcoin investments might be coming to an end for the time being, stating that "the days of massive, massive returns on Bitcoin are possibly behind us for a while."
Financial institutions like Goldman Sachs, DBS, BNP, and others, whose names were not disclosed, are currently running nodes and tokenizing assets on Onyx.
JP Morgan extends credit lines to its institutional clients, a process that can be expensive for some due to regulatory requirements. Through Onyx, clients can enter into repurchase agreements, colloquially known as repos, using tokenized treasuries as collateral. Lobban highlighted the precision enabled by smart contracts in these transactions, allowing clients to specify the exact terms of the trade. He added that clients can be very specific about the length of time they need, such as borrowing a billion dollars for three hours or $500 million for five hours.
Lobban concluded by emphasizing the effectiveness of smart contracts in ensuring timely delivery versus payment and the exact exchange of assets for cash. He stated that the technology allows for highly precise trade terms agreed upon by both parties.
https://youtube.com/watch?v=l_VGSr7m2bs%3Ffeature%3Doembed
Source: Read Full Article