16 of the best Jersey Shore beach houses you can book on Airbnb for this summer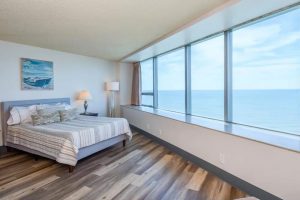 If you buy through our links, we may earn money from affiliate partners. Learn more.
The Jersey Shore has 141 miles of large sandy beaches and is famous for its retro boardwalks.
The shore is an easy East Coast summer getaway within driving distance of many cities.
We found top-rated shore homes on Airbnb from Belmar to Cape May, from $89 to $394 per night.
A summer vacation on the Jersey Shore consists of long days on the beach and warm nights strolling the boardwalks. As a born-and-raised New Jerseyan, I grew up visiting Jersey Shore beaches like Sandy Hook, Belmar, and Wildwood, and return many times to snack on funnel cake and hunt for sunsets near Cape May Point.
The Jersey Shore has mostly shaken its 2000s-era MTV party reputation, and many towns like Asbury Park and Ocean City are excellent for families with lots of things to do for kids beyond the beach. Though, if the Point Pleasant house from MTV's hit is what you're looking for, it's occasionally available for booking.
Popular Reviews
For less infamous lodging, however, there are many vacation rentals available on Airbnb. A beach house rental will also avoid crowds, offer more space than a hotel, and usually comes with freebies like parking, beach gear, and beach badges. Here are the best beach houses you can rent along the Jersey Shore on Airbnb.
We selected the best Airbnbs on the Jersey Shore based on the following criteria:
Airbnb listings are for the entire home, so you don't have to worry about sharing a bathroom with your host or another guest.
Each Airbnb is priced between $89 and $394 per night to start.
All are highly-rated Airbnb listings with a review score of 4.7 or higher.
All homes are committed to Airbnb's Enhanced Clean program, a five-step cleaning process developed in partnership with health and hospitality experts.
All Airbnbs are great beach houses well-suited to a summer getaway with free parking, within walking distance from the beach, and come with great views or useful bonuses like complimentary beach badges or umbrellas and chairs.
Homes are available to book in the coming weeks and months, as of publishing but are subject to availability. For more Airbnbs on the Jersey Shore, click here.
Browse all the best Airbnbs on the Jersey Shore below, or jump directly to a specific area here:
The best Airbnb house rentals on the Jersey Shore
FAQ: Jersey Shore house rentals
More great beach getaways
These are the best Airbnbs on the Jersey Shore, sorted by price from low to high.
Book this Atlantic City home on Airbnb
Typical starting price: $89
Town: Atlantic City
Sleeps: 4 guests/studio
Rating: 4.8
Wake up and see nothing but blue. With a panoramic window looking over the ocean, this high-rise studio condo in Atlantic City is chic and minimalistic with a sleek countertop in front of the big window, white cabinets, and a funky cube-shaped light fixture above the dining area.
It's a great alternative to a room at one of the nearby casino hotels because you'll have a more functional kitchen with room to eat at the kitchen table. There is also a spa-like jetted tub with a window perched above for lots of natural light. It looks out into the main bedroom, but can also be covered up for privacy.
Parking is included and there is direct access to the boardwalk. The listing also mentions a shared gym and pool in the building, but these may be closed.
Cozy cottage on the bay
Book this Beach Haven home on Airbnb
Typical starting price: $156
Town: Beach Haven
Sleeps: 2 guests/studio
Rating: 4.9
This adorable studio-sized cottage on the bay is within walking distance of both the beach and the bay, as well as shops and restaurants in town. The bayside location also means you'll be able to enjoy some spectacular sunsets.
Staying here comes with the use of complementary bikes, beach chairs, and beach badges. If you need more space for a workout or yoga session, the Murphy bed tucks into the wall. The kitchen is compact, but there is also a fire pit and picnic tables outside, which is part of a shared common area among other residents.
Studio apartment right next to the beach
Book this Atlantic City home on Airbnb
Typical starting price: $158
Town: Atlantic City
Sleeps: 2 guests/studio
Rating: 4.9
Located right on the beach, this is a great choice for someone who wants to prioritize beach time on their trip to Atlantic City.
This second-floor apartment was recently remodeled and includes a parking pass that will allow you to park on the street. Inside, find a modern kitchen with granite countertops, smart TV, and nice blue and gray tile work in the shower. The space feels fresh and up to date with distressed furniture pieces like the dresser below the TV and a console table. You'll also have a small porch with two red rocking chairs to enjoy a cup of coffee or drink outside with the fresh sea breeze.
Two-bedroom apartment just blocks from the beach
Book this Asbury Park home on Airbnb
Typical starting price: $189
Town: Asbury Park
Sleeps: 4 guests/2 bedrooms
Rating: 4.9
Asbury Park, aka Bruce Springsteen's stomping grounds, is only a two-and-a-half-hour train ride from New York City. There, you'll find this newly renovated two-bedroom apartment within walking distance of the beach and the main strip filled with shops and restaurants.
With hipster flair — think llama paintings and pops of color — and a porch furnished with cushioned outdoor furniture, this Airbnb is as thoughtful as any modern hotel. It comes with a fully-stocked kitchen, four beach badges, beach chairs, towels, and even a beach tent for babies.
Renovated beachfront apartment
Book this Seaside Heights home on Airbnb
Typical starting price: $195
Town: Seaside Heights
Sleeps: 6 guests/3 bedrooms
Rating: 4.9
Despite being the epicenter of every Jersey Shore stereotype, there's a reason why Seaside Heights is so popular — it's a lot of fun.
This newly renovated apartment on the beach provides a wonderful counterbalance to the boardwalk's kitschiness with a tasteful interior dressed in light beach tones. Your stay includes beach badges as well as a shared outdoor space with picnic tables, a grill, and an outdoor shower. There are four apartments in total, so if you have a large group, you may even consider renting out the whole building. The nightly rate is pricey for the size, but given the beachside location along Jersey's most famous strip of sand, which you can see from the boardwalk, it's quite the steal.
Bay beach house meant for outdoor entertaining
Book this Ocean Gate home on Airbnb
Typical starting price: $198
Town: Ocean Gate
Sleeps: 6 guests/2 bedrooms
Rating: 4.9
Within walking distance from the beach on the bay, waterfront restaurants, and the Ocean Gate boardwalk, this newly remodeled home has stainless steel appliances and concrete countertops in the kitchen. The living room has a large sectional couch and gas fireplace, making for a cozy spot to gather for a night in.
There is also a washer and dryer in the half bathroom, so you can keep your clothes fresh throughout your stay, a huge luxury when you'll be in and out of the ocean.
Outside, this listing has a unique feature for entertaining, an outdoor kitchen equipped with a sink, mini fridge, a grill, and a bar with four stools. Ocean Gate is a quiet community and just a 12-mile drive from Seaside Heights across Barnegat Bay.
Oceanfront condo with a pool
Book this Wildwood home on Airbnb
Typical starting price: $200
Town: Wildwood Crest
Sleeps: 4 guests/studio
Rating: 4.8
The balcony of this ocean-facing condo looks out over Wildwood's famously large beach. Its location on the crest, south of the main boardwalk, also means it's a quiet alternative to the more boisterous side of town. The condo also includes access to a pool right near the beach.
Inside the home, the decor is light and airy with aquamarine walls and wooden furnishings. The studio layout means you'll be sleeping on the pull-out sofas, though numerous guests have praised its comfort.
A sea-green color scheme carries from the striped couch to the mosaic carpet, and there are Adirondack chairs on the balcony for taking in the view, while the living area comes with a large flatscreen TV and board games for when you want to hunker down at home.
Multi-level home with lighthouse views
Book this Cape May home on Airbnb
Typical starting price: $200
Town: Cape May
Sleeps: 4 guests/2 bedrooms
Rating: 5.0
At the very tip of the New Jersey Shore, watch a stunning Cape May sunrise in this two-bedroom apartment that also has a view of the historic lighthouse and Cove Beach.
The house is right on the beach and has a back deck with a grill and a small picnic table. Angled ceilings and skylights give this home character. Even though the space is small, it has a full kitchen with a small two-seat bar, as well as two bedrooms, one with a Queen-sized bed and one with a twin. However, guests must bring their own linens and towels.
Quiet guest suite near the beach
Book this Belmar home on Airbnb
Typical starting price: $200
Town: Belmar
Sleeps: 5 guests/2 bedrooms
Rating: 5.0
A 10-minute walk from the beach, this home boasts a central Belmar location while keeping a peaceful distance away from the noise.
Inside, this first-floor apartment is beachy with a neutral white and blue color scheme, succulents, and a healthy dose of beachy kitsch accents. The kitchen has brand new stainless steel appliances, a coffee station, a microwave, and there is also a washer and dryer.
Out front, there is a small patio with two red Adirondack chairs, a picnic table, and a grill. The hosts will also let you store any beach chairs or umbrellas (though not provided by the host) in an attached outdoor shed with two beach badges included.
Victorian house near Asbury Park
Book this Ocean Grove home on Airbnb
Typical starting price: $224
Town: Ocean Grove
Sleeps: 5 guests/1 bedroom
Rating: 4.9
The Stockton is a stunning 19th century Victorian home near Asbury Park, just a few blocks from the beach, and located in a peaceful neighborhood surrounded by lush gardens and historic houses.
This home is all charm on the outside with pale blue shutters, white wicker furniture, and a wraparound deck that begs for people watching. Inside, the duplex layout is fresh and clean, with standout little touches such as white leather futons, a champagne bar, and exposed brick.
All-white linens and natural beach tones add to the posh look, and there is also a Smart TV and beach badges.
Family-sized home on the lagoon
Book this Mystic Island home on Airbnb
Typical starting price: $225
Town: Mystic Island
Sleeps: 6 guests/3 bedrooms
Rating: 5.0
With room enough for six and many fun amenities, this huge house on the Mystic Island Lagoon, between Atlantic City and Long Beach Island, is great for a family getaway.
In addition to an outdoor seating area with hammocks, a fire pit, and a grill, the big draw of this listing is the huge dock that puts you right on the water. You can rent some kayaks or use the house's pedal boat free of charge.
The home's decor is nautical, but not kitschy, and the kitchen is peaceful with all-white cabinets decorated with ocean-themed items such as a lighthouse, pelican, and whale sculpture, and an aquamarine backsplash. The sea theme carries throughout from the bedding to plenty of seahorses, turtles, pelicans, and boat accents adorning the walls.
Waterfront house with stunning views
Book this Long Beach Island home on Airbnb
Typical starting price: $265
Town: Long Beach Island
Sleeps: 8 guests/4 bedrooms
Rating: 4.9
Although not on the beach, this Long Beach Island home overlooks the bay, giving boaters and jet skiers a good position to get on the water, and boat access right at the front door.
Or, if you don't have a boat, you'll be positioned to simply enjoy the panoramic sunset views from the centerpiece deck with a grill and outdoor lounge area looking out over the marshes.
The home is decorated in the traditional beach style with nautical colors and beach-themed decor and has fun amenities like a foosball table. The living room and bedrooms have large windows so you can appreciate the view from just about anywhere in the house. With 400 species of birds in the area, this is a great perk for birdwatchers. Note that guests are required to bring their own bedding and the indoor fireplace seen in some of the photos has been removed.
Chambourcin cottage at Willow Creek Vineyard
Book this Cape May home on Airbnb
Typical starting price: $274
Town: Cape May
Sleeps: 2 guests/1 bedroom
Rating: 4.9
Willow Creek Winery lists multiple cottages varying in size on Airbnb, but the second-floor Chambourcin Cottage is the coziest and the least expensive without sacrificing on charm or location.
The apartment has two porches that overlook 50 acres of grapevines, which you'll be free to walk around throughout your stay, or sample the offerings at the on-site winery. Inside the home, there is an open living and dining space with two couches and a modest galley kitchen. An adjacent bedroom has a Queen-size bed and a tiled bathroom with a walk-in shower.
Although it's not directly on the beach, it's only two miles from the iconic Cape May Lighthouse.
Beachy townhouse with ocean views
Book this Sea Isle City home on Airbnb
Typical starting price: $314
Town: Sea Isle City
Sleeps: 10 guests/4 bedrooms
Rating: 4.8
This huge townhouse is steps away from the Sea Isle City Beach and feels modern, but still beachy. There's a wooden mantle above the indoor fireplace, hemp chairs out on the front porch, a mounted surfboard, and paintings with ocean motifs.
Sliding glass doors in the living room lead out to a balcony and bathe the space in natural light, but the best part of this home is certainly the roof deck, from which you can watch some pretty amazing sunsets.
Past reviewers praise the cleanliness of the space and how easy it was to communicate with the host.
Huge house with a big patio
Book this Ventnor City home on Airbnb
Typical starting price: $327
Town: Ventnor City
Sleeps: 9 guests/3 bedrooms
Rating: 4.7
Not far from Atlantic City and only two blocks from Ventnor City Beach, this spacious house makes it easy to plan a beach getaway with beach badges, chairs, and parking for two cars.
The decor is modern and light, with contemporary furniture and glass art alongside a gleaming kitchen and a generous layout well suited to families or groups of friends. After a day on the sand, retreat to the 200 square-foot private balcony that overlooks the bay while basking in the warm salty air.
Large bayfront home with kayaks, paddleboards, and fishing gear
Book this Wildwood home on Airbnb
Typical starting price: $394
Town: Wildwood Crest
Sleeps: 12 guests/4 bedrooms
Rating: 4.7
This enormous house might be at the top of our price range, but with room for 12 people and a full deck that leads out to a boat dock on Sunset Lake, it's quite the steal. Plus, everything from paddleboards and kayaks to crab traps and fishing poles are included.
If you know you're not going to wake up early enough to watch the sunrise over the Atlantic, at least you'll know you'll never miss a sunset with the bay for your backyard. You will share the house and deck with other apartments on the property, but it's possible to book the whole house if you have a really big group.
Inside the house, the kitchen is newly refurbished with all-white cabinetry and aquamarine place mats, while sliding glass doors from the kitchen and one bedroom lead to the waterfront porch with a picnic table.
Furniture and bedding are traditional with kitschy beach patterns and mismatched design styles, but with so many great amenities, lots of space, and an incredible deck, this is a great find, especially if you have a big family.
FAQ: Jersey Shore house rentals
Where is the Jersey Shore?
The Jersey Shore, known locally as 'the shore,' is made up of the entire coastal area bordering the Atlantic Ocean within the state of New Jersey. The region stretches from Perth Amboy in the north all the way to Cape May in the southernmost point.
How far is Jersey Shore from NYC?
Depending on where you go, and traffic, the trip might be as quick as under an hour to as long as three hours by car.
How much is it to rent a house on the Jersey Shore?
Prices will be the highest in the summer when everyone wants to spend a summer on the shore, and can easily a couple of hundred dollars per night for a bare bones studio apartment. If you want to book a lavish house with a pool or a beach house on the ocean, expect to pay several hundred dollars per night.
However, you will find deals if you visit in shoulder seasons such as spring or fall and the cheapest rates off season in winter. If you do desire a summer beach getaway on the Jersey Shore, try to visit during the week for cheaper prices and avoid popular holiday weekends.
Additionally, many cheaper beach houses will feature dated decor and furnishings. For stylish surrounds, the cost will surely rise.
How can I find a house rental on Airbnb near the beach?
To find a beachfront house rental on the Jersey Shore on Airbnb, make sure to refine your search with filters.
Under 'Amenities,' be sure to check the box for either beachfront or waterfront. However, keep in mind that some hosts may list their homes as beachfront when they are really a block or two away. Read the listing carefully to ensure the beach is as close as you want it to be.
Is Airbnb safe?
To answer the question around whether Airbnbs are safe, we spoke with experts who said staying at an Airbnb as opposed to a hotel is one of the safest travel options, because when you book the entire house, there are no interactions with hosts or other guests. Airbnb also recently implemented mandatory new procedures and cleaning policies for hosts and guests.
Is travel safe?
The CDC recently said people who are vaccinated can travel safely within the US. However, travel for those who aren't yet vaccinated still comes with risks. Additionally, experts still advise those who are vaccinated to continue to wear a mask, washing hands, and practice social distancing.
More great beach getaways
The best Airbnbs in Cape Cod
The best vacation rentals in Ocean City
The best Airbnbs beach houses in the US
The best Airbnbs in the Hamptons
The best Airbnbs in New England
The best vacation rentals in the Outer Banks
Axel Springer, Insider Inc.'s parent company, is an investor in Airbnb.
Sign up for Insider Reviews' weekly newsletter for more buying advice and great deals.
You can purchase syndication rights to this story here.
Disclosure: This post is brought to you by the Insider Reviews team. We highlight products and services you might find interesting. If you buy them, we get a small share of the revenue from the sale from our commerce partners. We frequently receive products free of charge from manufacturers to test. This does not drive our decision as to whether or not a product is featured or recommended. We operate independently from our advertising sales team. We welcome your feedback. Email us at [email protected]
Source: Read Full Article