22 gift ideas for new couples celebrating their first Valentine's Day, from classic gourmet chocolates to virtual experiences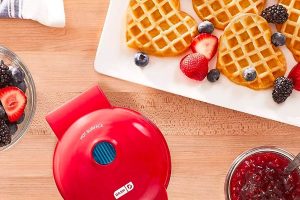 There can be a lot of pressure on new couples around big holidays like Valentine's Day. 
We found thoughtful gift ideas for your first Valentine's Day together from cool candles with romantic scents to unique virtual dates.
For more inspiration, check out our other Valentine's Day gift ideas for everyone in your life.
Valentine's Day is around the corner, and if it's the first one you'll be celebrating with your significant other, you may be feeling some pressure. You're probably looking for gift ideas that are thoughtful and show you care, but without being too extravagant. The best gifts for your first Valentine's Day together are shared activities, romantic classics, and small gifts that feel personal. 
To help ease some of the anxiety you may be feeling, we rounded up low-key Valentine's Day gifts for new couples that are sure to be a hit whether you've been seeing each other for a few weeks or almost a year. 
Here are the best gift ideas for your first Valentine's Day together:
A kit to make your own truffles
Make Your Own Chocolate Truffles  Kit, available on Uncommon Goods, $38
Truffles are a classic for Valentine's Day. But this fun kit has the added benefit of being an experience you can do together as a couple. Spend a day in the kitchen customizing your creations with the included coconut flakes, peppermint, vanilla, and Himalayan sea salt. 
Beautiful, farm-fresh flowers
Personalized Bouquet, available on Bouqs, from $39
Flowers are a classic for a reason —  and sending an armful to grace their living room is a nice way to brighten up their living space every time they see them. The Bouqs Co. flowers are farm-fresh, sustainably harvested, and beautifully packaged. They're our top pick for flower deliveries online, but if you're looking for more options, check out the Insider Picks buying guide to the best flowers you can buy online.
A subscription to Disney Plus
Disney Plus gift subscription, $69.99
If your new significant other is a Disney fan, a year of Disney Plus will surely win them over. Whether they want to watch "The Mandalorian" or "Hamilton," they can access thousands of titles from Disney, Pixar, Marvel, Star Wars, National Geographic, and 20th Century Fox. Plus, it's a good excuse to enjoy a home movie night as a couple for your next date. Here's everything to know about the streaming platform. 
A cold brew coffee maker
Takeya Cold Brew Iced Coffee Maker, 1 Quart, available on Amazon, $15.99
Are there small inconveniences in your partner's life that you could alleviate? It shows that you listen when they rant about their tiring commute, are well-aware of their cold brew habit, and know that they love taking a long bath at the end of the day but have nowhere to put a wine glass. 
This $20 gem will make a quart of cold brew, fit comfortably in the door of most refrigerators, and save them as much as a few hundred dollars per year with convenient, at-home cold brew. It works well, but if you're looking for something more elegant, you may want to check out the $35 Blue Bottle Hario Cold Brew Bottle. 
A smarter coffee service
Three-Month Subscription, available at Driftaway, from $44
In a new or old relationship, you can't go wrong with paying some mind to a hobby or interest your partner has. Do they love coffee? Introduce them to a cool, interactive coffee startup that gets smarter and better at its recommendations as time goes on by learning their palate preferences. They'll discover new beans that are still in their wheelhouse, and they'll think of you every time they have a great morning cup. 
A membership that hand selects new vinyl records based on their music tastes
Three-Month VNYL Gift Membership Subscription, available at VNYL, $39
VNYL's team of curators studies your music profile — assembled via a quiz and connected Spotify, Soundcloud, Instagram, etc. — to handpick new albums that they think you'll love. Then, they send you a vinyl of their tailored pick to your door. If your partner is a music lover and has a record player, or music is something you've bonded over together, this is a cool subscription that will help both of you discover even more music to love.
A necklace of their zodiac sign
Zodiac Necklace, available on Mejuri, $90
Mejuri's popular zodiac necklaces are a great way to gift jewelry that manages to feel both luxurious and special — without breaking $100 or compromising on quality. The Canadian startup as a whole is a unique mix of approachability and elegance, which may be why they're known for waitlists that top out at 40,000 people.
A romantic candle from a cool brand
Daybed Candle, available at Otherland, $36
For a fresh floral scent that will last far longer than a bouquet, a romantic candle is just the trick. Otherland is one of our favorite candle brands and this alluring aroma includes notes of rosebud, peony blossom, and pear water. 
Gourmet chocolates in a themed box
Valentine's Day Heart Assorted Chocolate Gift Box, 14-piece, available on Godiva, $34.95
For a new relationship, the classics are a great (and safe) tune to play, especially when it's delicious gourmet chocolates or chocolate-covered strawberries. 
A fun and delicious hot sauce subscription
Small-Batch Quarterly Hot Sauce Subscription, available on Food52, $120
Tell them this is how you plan to keep things spicy all year long — with a subscription to gourmet, small-batch hot sauces.
A personalized video message from their favorite celebrity
Cameo Video Message, available at Cameo, from $15
A personalized video is a gift sure to impress. Cameo allows celebrities to send custom video messages to recipients. Browse the list and pick out one of their favorite actors, comedians, or athletes to give them a custom shoutout.
A funny, unique keepsake card
Schitt's Creek Valentine's Day Card, available on Etsy, from $5.75
No matter if you're celebrating your one-year anniversary in a week or you've only been seeing each other for a few months, you can't go wrong with a cute or funny card. Though it's small and inexpensive, going to the effort of ordering something unique off of Etsy instead of stopping in at the Walgreens near their house goes a long way. 
A boozy brunch date that doesn't sound last-minute
Mimosa Diagram Glassware, Set of 2, available on Uncommon Goods, $38
Just started seeing each other or in favor of a laid-back Valentine's Day activity? Bring over commemorative glasses and bottles of Champagne and orange juice and have yourself the kind of brunch that requires a three-hour nap afterward. For something extra impressive, take care of the ordering in or cooking. Do they have a favorite blueberry muffin spot? Stop by on the way. 
A nice wine delivery every few months
Six-Month Gift subscription, available at Vinebox, $158
Why not pick something you two can enjoy and learn about together? Vinebox sends a personalized wine flight to their door four times per year (six months equals two boxes) that's curated based on their personal tastes and preferences. Each vial is portioned to be one full glass of fine wine, and members get $15 toward full-sized bottles each quarter.
A unique virtual class or experience
Book an Airbnb Experience, available on Airbnb, from $6 per person
Too few people know about or take advantage of Airbnb experiences. And amidst the pandemic, they've taken many options virtual so you can enjoy them from the comfort of home. Take a tango lesson from experts in Argentina, cook with a family in Morocco, and more. 
Check out your virtual options here, and use the reviews and ratings to steer you in the right direction. 
A funny parody cookbook for 'Fifty Shades of Chicken'
Fifty Shades of Chicken: A Parody in a Cookbook, available on Amazon, $9.95
Edgy, boundary-pushing, and avant-garde: It's the Fifty Shades parody cookbook. Grab it and a bottle of wine and stay in to make Valentine's Day dinner.
Mini waffles made with love
Dash Heart Mini Waffle Maker in Red, available at Bed Bath & Beyond, $9.99
Serving up breakfast in bed or making breakfast together is a great way to show you care. This mini waffle maker takes Valentine's Day to the next level by turning out perfect, heart-shaped creations.
A cute, funny anatomical heart
Heart Plush Figure, available on Amazon, $24.99
If you're looking for something sweet but low-pressure, a funny anatomically correct plush heart is a great way to go.
A future weekend away together
Airbnb Gift Card, available on Airbnb, from $25 
Whether you want to do a local, outdoor getaway with your significant other now, or are planning a bucket list trip to take once it's safe again, an Airbnb gift card is always thoughtful. Digital gift cards are available for the popular home-sharing platform for amounts between $25 and $500 on Airbnb. You can also purchase Airbnb gift cards for $50 or $100 at Target and the funds never expire.
Ongoing date night ideas
Date Night Bucket List, available on Uncommon Goods, $18
Insurance that the months ahead won't contain much boredom, this Date Night Bucket List comes with plenty of fun and unique ideas. Couples can add their own, draw them at random, and add the date they checked off each "date night" in pencil on the back for a keepsake.
A complete survival kit for your next binge-watching marathon
Binge Watching Survival Kit, available on Barnes and Noble, $19.95
The nitty-gritty survival kit for your next Netflix and Chill binge-watching marathon. Pick your favorite movie, make popcorn, and spend an ideal Valentine's Day in.
A salt block for cooking
Presto Pizzazz Plus Rotating Oven, available on Amazon, $54
Who doesn't love a casual pizza night in? Cozy up together with a homemade pie with this easy gadget we named one of our top favorites in our guide to the best pizza ovens. 
Looking for more Valentine's Day gift ideas? Check out these guides:
The best online flower delivery services to send freshly cut blooms and live plants on Valentine's Day
68 thoughtful and unique Valentine's Day gifts for him — for every budget
67 cool and unique Valentine's Day gifts for her — for every budget
33 funny, low-pressure Valentine's Day gifts for every relationship level
24 personalized Valentine's Day gifts worth putting the extra time and thought into
50 thoughtful Valentine's Day gifts that aren't chocolate and a card — all under $25
30 affordable and meaningful Valentine's Day gifts that won't cost you more than $50
22 unique Valentine's Day gifts from Amazon's Etsy-like marketplace
20 sweet his-and-hers gifts for couples celebrating happy milestones
27 sweet Valentine's Day gifts you can get on Amazon
This online startup is challenging the traditional jewelry industry with conflict-free diamonds and custom engagement rings
Subscribe to our newsletter.
You can purchase syndication rights to this story here.
Disclosure: This post is brought to you by the Insider Reviews team. We highlight products and services you might find interesting. If you buy them, we get a small share of the revenue from the sale from our commerce partners. We frequently receive products free of charge from manufacturers to test. This does not drive our decision as to whether or not a product is featured or recommended. We operate independently from our advertising sales team. We welcome your feedback. Email us at [email protected].
Source: Read Full Article