Best City to Live in Every State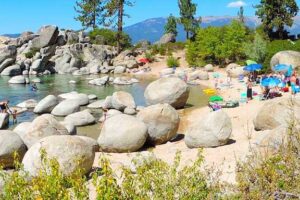 The number of Americans who relocate each year has been trending downward for decades. According to the U.S. Census Bureau, only 28.2 million people moved to a new home in 2022, down from 41.1 million 20 years earlier. Of those who did move in 2022, the vast majority – 78% – stayed within the same state. 
When Americans do decide to move, many do so to improve their standard of living. Climate, health considerations, taking or finding a new job, buying a better or more affordable home, and living in a safer neighborhood are all commonly cited reasons. But for those who are not prepared to move across the country, within every state, there are cities and towns that stand out for the higher overall quality of life they can offer. (This is how big a house you can buy for $200,000 in every state.)
Using data from the Census Bureau, the FBI, and the Centers for Disease Control and Prevention, 24/7 Wall St. created a weighted index of 22 measures to identify the best cities to live in in each state. The measures used in the index fall into one of three broad categories: economy, community, and overall quality of life. We considered all places in the U.S. with sufficient data and populations of at least 5,000. Our list includes cities, towns, villages, boroughs, and unincorporated communities. 
Generally, the places on this list tend to have low crime rates, thriving economies, and relatively financially secure populations. A majority of residents of most of these communities also typically have easy access to quality health care, public parks and recreation facilities, as well as to entertainment and cultural attractions such as bars, restaurants, theaters, and museums. 
While some of the places on this list are large cities with hundreds of thousands of residents, most are relatively small, with populations of less than 30,000. Still, many of these smaller communities are within commuting distance of major cities like Chicago, Miami, New York, and Washington D.C. (Here is a look at America's richest cities.)
Click here to see the best city to live in every state.
Click here to see our detailed methodology.
Sponsored: Tips for Investing
A financial advisor can help you understand the advantages and disadvantages of investment properties. Finding a qualified financial advisor doesn't have to be hard. SmartAsset's free tool matches you with up to three financial advisors who serve your area, and you can interview your advisor matches at no cost to decide which one is right for you. If you're ready to find an advisor who can help you achieve your financial goals, get started now.
Investing in real estate can diversify your portfolio. But expanding your horizons may add additional costs. If you're an investor looking to minimize expenses, consider checking out online brokerages. They often offer low investment fees, helping you maximize your profit.
Source: Read Full Article