Biden To Address UN General Assembly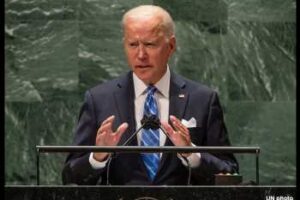 President Joe Biden will address the United Nations General Assembly Tuesday.
Biden has a busy schedule throughout the day at the UN Headquarters in New York, according to the White House. At 10 AM ET, he is scheduled to speak at General Debate of the 78th Session, which will run through September 26.
He will be delivering his third speech to the U.N. General Assembly of his presidency.
"In that speech, he will lay out for the world the steps that he and his administration have taken to work with others to solve the world's most serious challenges," a senior administration official said at a brieifng to preview the President's engagements at UN General Assembly.
"He will outline his vision for how countries, working within reformed and modernized international institutions, can harness their efforts to end conflict, defend human rights and the rule of law, and help countries develop their economies".
The U.S. President will also meet with U.N. Secretary-General António Guterres. The meeting is scheduled for 11.30 AM ET. They will discuss how they can strengthen their partnership to tackle global issues, including mobilizing resources for development, combating climate change, ending conflicts, and working together to uphold the U.N.'s foundational principles.
Later in the day, Biden will host the first-ever so-called C5+1 presidential summit at the United States Permanent Mission to the United Nations.
He will meet with the presidents of five Central Asian nations: Kazakhstan, the Kyrgyz Republic, Tajikistan, Turkmenistan, and Uzbekistan.
The leaders will discuss a range of issues related to regional security, trade and connectivity, climate, and reforms to improve governance and the rule of law.
Tuesday evening, Biden will host the traditional reception with world leaders where he will have the chance to engage with dozens of heads of state and government from around the world.
Wednesday, the President will hold a bilateral meeting with Brazilian President Luiz Inacio Lula da Silva as well as join in an event with labor leaders from Brazil and the United States.
Also on Wednesday, President Biden will sit down with Israeli Prime Minister Netanyahu to discuss a range of bilateral and regional issues. The leaders will compare notes on effectively countering and deterring Iran, the White House said.
Ukrainian President Volodymyr Zelensky is among a number of leaders who will speak at the General Debate Tuesday.
Russian President Vladimir Putin and Chinese President Xi Jinping are not attending the annual world leaders' gathering at the top U.N. platform.
Source: Read Full Article