Big retailers can strike prices of pound shops, research shows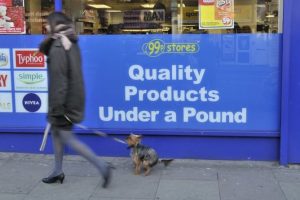 We use your sign-up to provide content in ways you've consented to and to improve our understanding of you. This may include adverts from us and 3rd parties based on our understanding. You can unsubscribe at any time. More info
Customers can be charged almost a pound more for some products at chains such as Poundland and Poundshop than at major retailers. Price-tag spies found a pack of 240 Tetley teabags costs £5 at Poundshop but just £3.49 at Tesco, while Nescafe Azera coffee is sold for £3.99 at Poundshop but just £3 at Sainsbury's. In some cases, shoppers may be confused by the different-sized packs on offer. Pound stores often sell smaller bags or tubs for £1 to maintain their all-important price.
The researchers found a pack of Milkybar White Buttons is £1 at both Poundland and Asda – but the former sells them in 80g bags while Asda's are 94g. The comparisons were revealed by Martin Isark, author of the Supermarket Own Brand Guide.
He said: "To hit the £1 price point, the brand products at pound stores are often smaller than the norm but gram for gram they can work out more expensive. These stores often don't bother to put the price per 100g or 100ml on their website. This is not helpful for the savvy shopper to see if they are getting a bargain.
"Their sizes make it difficult to compare prices. Over the years, the pound stores offered all their products for £1 but now they often sell them for different prices because of inflation. When these stores sold products for just £1, they were a real bargain. But today the big supermarkets can match and beat their cheap prices. Surely the writing is on the wall."
Get the latest three-day weather forecast where you live. Find out by adding your postcode or visit InYourArea
Source: Read Full Article