Brexit Britain toasts 'extraordinary success' as jobs market booms back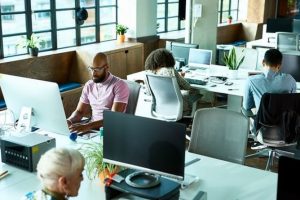 GMB: Gary Neville and Edwina Currie clash over employment
We use your sign-up to provide content in ways you've consented to and to improve our understanding of you. This may include adverts from us and 3rd parties based on our understanding. You can unsubscribe at any time. More info
Data from the Office for National Statistics today showed the number of workers on payrolls climbed by 160,000 in October. Unemployment, which some had expected to rise as the furlough scheme came to an end in September, actually fell by 0.5 percent. Head of economic statistics at the ONS Sam Beckett said: "October's early estimate shows the number of people on the payroll rose strongly on the month and stands well above its pre-pandemic level. "There is also no sign of an upturn in redundancies and businesses tell us that only a very small proportion of their previously furloughed staff have been laid off."
Chancellor Rishi Sunak described the figures as an "extraordinary success".
As well as rising employment, the ONS figures also found a record number of job-to-job moves from July to September driven mainly by resignations.
Founder of recruitment agency Aspire Paul Farrer commented: "This points towards growing confidence among workers, who are capitalising on the abundance of job opportunities.
"But it also presents challenges for employers to retain their existing staff."
Whilst the rise in employment will be welcomed as good news for many the growing number of vacancies also underlines the shortage of skilled workers faced by many industries.
Head of Economics at the British Chambers of Commerce Suren Thiru commented: "More significant support is needed to help firms access the skills they need when they can't recruit locally, including supporting the hardest hit sectors through expansion of the Shortage Occupation List."
Many had feared that the end of the furlough scheme would cause shocks to the labour market however this has not materialised.
Nye Cominetti, Senior Economist at the Resolution Foundation said: "Early indications are that the UK's jobs market has remained resilient, with record vacancies and job moves, and withstood the withdrawal of emergency support well."
However he also warned pay may prove a problem with the UK needing pay to grow fast enough to protect living standards but not fast enough to cause excessive inflation.
The news also potentially raises odds on an interest rate rise from the Bank of England in the coming months.
Governor Andrew Bailey had previously cited uncertainty over the labour market as a factor in the decision to hold off increasing rates.
Today's figures may give new clarity on this.
DON'T MISS:
The "biggest" pension mistakes Britons make: 'The state won't provide' [REVEAL]
Rental costs soar across the UK as landlords hike prices [LATEST]
Cryptocurrency financial stability risk 'getting closer' [ANALYSIS]
Charles Hepworth, Investment Director at GAM Investments noted: "The argument made by the Bank of England at their previous meeting for not raising rates was that they wanted to see firm evidence of a buoyant jobs market.
"This latest employment data release provides just that and bank rates must surely rise next month now in the UK to 0.25 percent – hardly a monumental quantum shift but a clear change in direction.
"The pound is enjoying a modest bounce on the back of this."
Source: Read Full Article