Clippers beat Mavericks to force Game 7 thanks to Kawhi Leonard's dominant all-around outing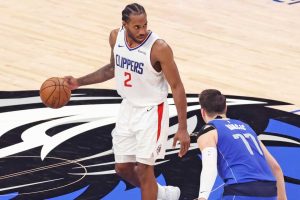 The clock ticked away as the Los Angeles Clippers inched closer either to elimination or survival. Yet, Kawhi Leonard stood calmly while holding the ball and ultimately dictating the Clippers' fortunes.
Not only did Leonard appear comfortable with the pressure of having the ball in his hands, he also appeared comfortable with who defended him. Leonard wanted to match up with Dallas Mavericks star Luka Doncic. So after receiving his wish, Leonard jab-stepped and then drilled a step-back 3-pointer over an off-balanced Doncic.
The play captured how Leonard led the Clippers to a 104-97 Game 6 win over the Mavericks on Friday to tie the first-round series at 3-3 and force a decisive Game 7 on Sunday at Staples Center. Leonard tied his playoff career high with 45 points, while shooting 18-of-25 from the field and 5-of-9 from 3-point range. And Leonard's 27-footer over Doncic proved to be the dagger shot, which gave the Clippers a 95-88 cushion with 2:20 left.
"He destroyed us. He had a hell of a game," Doncic said. "That's what he does."
That's not all that Leonard does, though. Doncic would know.
🖐️🖐️🖐️🖐️🖐️🖐️🖐️🖐️🖐️
KLAW DROPS 45.
LAC forces GAME 7 ⤵️
Sunday, 3:30 PM ET, ABC#NBAPlayoffs#ThatsGamepic.twitter.com/VJMaCqu9cu
Leonard became the sixth player in NBA history during the shot clock era to score at least 45 points on 72% shooting in a playoff game. He did so while primarily guarding Doncic, whose 29 points required plenty of effort from the field (11-of-24) and from deep (2-of-9).
"You saw one of the best, if not the best, two-way players at his best," Clippers forward Paul George said. "It was fun to watch."
It sure was.
Leonard scored 42 of the Clippers' final 68 points. During that stretch, Leonard shot efficiently from the field (17-of-22), from deep (5-of-8) and from the free-throw line (3-of-3). Meanwhile, Doncic's efficiency fluctuated. After scoring 11 first-quarter points on 4-of-8 shooting, Doncic became less effective in the second (four points on 1-of-3) and third (two points on 1-of-5 shooting). Doncic rebounded in the fourth quarter (12 points on 5-of-8 shooting), but Leonard made up for that with 12 points of his own while making all five of his attempts.
KEY TAKEAWAYS: How the Clippers forced Game 7 against the Mavericks
OUT IN PORTLAND: Blazers part ways with Stotts a day after playoff exit
"Great players perform in big moments," Clippers coach Tyronn Lue said. "He took on the challenge with guarding Luka the whole game, and I thought the coverages were great. That shows you who Kawhi Leonard is."
It also shows you who Leonard is when he resisted bragging about his own play.
"Luka still played a pretty good game," Leonard said. "He's a very dominant player and very skilled. He plays at his own pace. All I can do is stay in front of him as much as possible, contest his shots and try not to put him to the line."
Leonard fulfilled that job description well. According to NBA.com's tracking data, Leonard has held Doncic to 22 points on 9-of-24 from the field (37.5%) and 4-of-13 from 3-point range (30.8%) in the series.

Source: Read Full Article