Crypto warning: Experts call for regulation as Bank of England warnings 'become reality'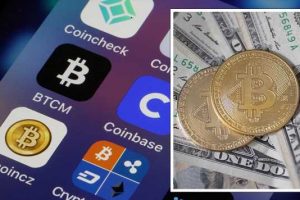 Cryptocurrency: Man recalls friend losing £50,000 due to scam
We use your sign-up to provide content in ways you've consented to and to improve our understanding of you. This may include adverts from us and 3rd parties based on our understanding. You can unsubscribe at any time. More info
The cryptocurrency world remains shaken by last week's crash, as LUNA instantly pulled several tokens underwater, and they have struggled to recover. Even established coins felt its effects, as Bitcoin and Ethereum remain down on their pre-May 12 values. The experience, experts believe, serves as a lesson on regulating cryptocurrencies.
The cryptocurrency market, still essentially in its infancy, has seen investors reap mammoth returns thanks to a lack of regulation.
The "wild west" landscape presents a double-edged sword, as zero regulation also means zero protection, and those not lucky enough to share in the profits may lose everything they have.
Financial institutions have warned those interested in cryptocurrencies to take care, and experts believe the latest activity has vindicated them.
Without their intervention, other currencies could eventually share in Terra Luna's fate.
Speaking to Express.co.uk, Todd Crosland, CEO at digital asset exchange CoinZoom, said the rash is a feature of the market at large.
He said: "The recent crypto 'crash' is symptomatic of the broader volatility of the crypto market.
"It is therefore unsurprising official bodies such as the Federal Reserve and the Bank of England have repeatedly warned consumers that they should be prepared to lose money if they invest in cryptocurrencies.
"These warnings have become a reality over the past couple of weeks – and if anything – should serve as the impetus for introducing the regulation needed to make crypto a more orderly and stable marketplace."
Mr Crosland said that, without regulation, the chances of other currencies following LUNA increases.
He added: "Failure to introduce the necessary regulatory framework increases the possibility that more cryptocurrencies will follow Terra Luna's sudden drop in value which would result in further losses.
"Trust in partners and products is the single most important factor underpinning investment in any asset – and for crypto to continue its institutional and retail expansion – effective regulation will be paramount."
The market may need that regulation sooner rather than later, as last week's crash was only the tip of the iceberg.
Figures show cryptocurrencies have declined for months now, worth a fraction of their value in 2021.
In the November of that year, the market was approaching $3 trillion (£2.4 trillion).
By mid-April, roughly a month before LUNA's downfall, it had already shed a third of its value, plummeting to $2 trillion (£1.6 trillion).
May has produced a sobering picture for those invested in the market, as it has almost halved in just one month to $1.3 trillion (£1 trillion).
The news has precipitated a bearish atmosphere, with analysts anticipating difficulties recapturing lost value.
But there is some hope that regulation could save investors, as it could attract the financial world's most seasoned players.
Wall Street institutions such as Goldman Sachs and JPMorgan Chase have started venturing into cryptocurrencies.
They now have dedicated teams, and their involvement could help restore some confidence.
Source: Read Full Article