Equipment innovator BeaverFit keeps armed forces and fitness crowd in top shape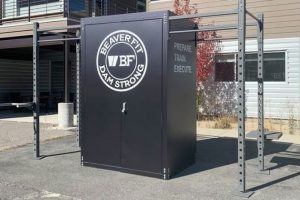 Karol Sikora discusses healthcare investment opportunities
When you subscribe we will use the information you provide to send you these newsletters. Sometimes they'll include recommendations for other related newsletters or services we offer. Our Privacy Notice explains more about how we use your data, and your rights. You can unsubscribe at any time.
The company, founded by endurance fitness enthusiast Tom Beaver a decade ago, has gone from strength to strength and is now in commanding position designing and fabricating ranges of rigs, training boxes, lockers and more recently home gyms bristling with benches, kettlebells, bands and ropes. Poorly constructed equipment can cause musculoskeletal injuries common among soldiers and their young shoulders, but BeaverFit's mastery of mobility and its space saving innovations are built on quality products "that last," says Beaver. "They are made of top grade steel, expertly welded. If Special Forces can't break it, no one can."
The business is the largest supplier of outdoor fitness equipment anywhere and while it capitalises on this growing trend it has also expanded into the online consumer market as demand, spurred by working from home, soared during the pandemic
Its UK design and fabrication operations are centred in Church Stretton in rural Shropshire where BeaverFit has invested £500,000 recently in a new factory and warehouse. Security of the order pipeline has also increased following a five-year contract to supply the Army and
The large US market is also in its grip after the company set up a separate branch and it is now the biggest fitness equipment provider to the military there. Other customers extend to luxury hotels, gyms, universities, sports clubs and blue chip corporates.
A £10 million turnover is forecast for the UK next year, while the US is set to be ten times that.
"We're successful because we're focused on collaboration, not competition. We listen and adapt," explains Beaver.
If Special Forces can't break our equipment, no one can

Tom Beaver
"There is an increased awareness about wellness and fitness generally, we get a lot of take up from fire brigades. Everything we do is bespoke and our own IP.
"Military units require deployable equipment that can be taken to expeditionary environments. The Navy wants gear that is compact.
"We're constantly challenged to innovate and ensure product safety and refinement, hence our strength and conditioning shelters that actively help to reduce injuries.
"Through collaboration we are growing internationally. One example is our partnership with PLAE flooring in Australia to establish a route to market there."
Among BeaverFit's star performers is its unique air portable Air Delivery Platform that provides an urban tactic and climbing centre that delivers essential role play for high risk situations.
The company's bread and butter product is its FOB (Forward Operating Base) Locker, the world's first deployable gym in various versions, including a folding option, with all the equipment and rig anchors needed for a group training facility.
And there's strictly no pottering in BeaverFit's Shred Shed, a £9,599 all-in-one portable gym solution for individuals and groups in the personal training and home fitness sectors.
Success has inevitably attracted copycats, brand status is the best defence, but Beaver also wishes he had been tougher earlier on clamping down on those trying to muscle in.
The firm's 50 eager beaver employees comprise CrossFit athletes, runners, rugby players, cyclists and personal trainers.
Staff reviews are held at the same time as they run marathons so it's no exaggeration when Beaver says "we live and breathe fitness".
Source: Read Full Article