Every State's Most Iconic Job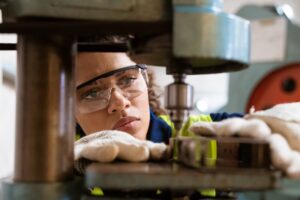 The United States has one of the most dynamic economies in the world. Where it once was symbolized by the automotive and steel industries, the American economy is now the world's technology colossus. But the U.S. economy is more than that. It is a unique sum of the parts of 50 states whose identities are often tied to a particular job or industry. (And domestic workers hold the most jobs in these 12 states.)
To determine the most iconic job in every state, 24/7 Wall St. reviewed data on employment by state for all detailed occupations from the Bureau of Labor Statistics Occupational Wage and Employment Statistics survey for May 2022. 
Occupations in every state were ranked by their location quotient – the ratio of the concentration of an occupation's employment in a state relative to its concentration nationwide. For example, if an occupation makes up 10% of the state's total employment but only 2% of U.S. employment, the location quotient is 5. We considered the occupation with the highest location quotient in a state to be the most iconic. Only occupations with at least 500 employees or more in every state were considered. All other data is also from the BLS. 
Gambling-related jobs have exploded in the U.S., and though we associate that industry with Nevada (and rightfully so), states such as Minnesota, Montana, and Oklahoma have a higher concentration of those occupations within their respective states than the U.S. average. (Also see, industries laying off the most workers.)
Occupations in the textile industry are closely tied to Southern states, and the data confirms this. Textile-related jobs are more highly concentrated in Alabama, Georgia, North Carolina, and Mississippi than the U.S. average concentration. Many of the jobs in gambling and textile industries pay less than $40,000 a year.  
Workers have flocked to states such as North Dakota, Wyoming, and Texas for the surge in energy jobs, and indeed the most iconic jobs in these states are wellhead pumpers, roustabouts, and derrick operators, respectively. 
West Virginia's most iconic job has the highest location quotient of any occupation of any state on the list. The share of roof bolters and mining jobs in West Virginia is more than 87 times the average share nationwide. Other states where there is a job concentration above the national average in mining are Utah and Arizona.
Click here to see the most iconic job in every state.
Sponsored: Tips for Investing
A financial advisor can help you understand the advantages and disadvantages of investment properties. Finding a qualified financial advisor doesn't have to be hard. SmartAsset's free tool matches you with up to three financial advisors who serve your area, and you can interview your advisor matches at no cost to decide which one is right for you. If you're ready to find an advisor who can help you achieve your financial goals, get started now.
Investing in real estate can diversify your portfolio. But expanding your horizons may add additional costs. If you're an investor looking to minimize expenses, consider checking out online brokerages. They often offer low investment fees, helping you maximize your profit.
Source: Read Full Article