Family of Andrew Brown Jr. expected to see more bodycam video of fatal shooting by North Carolina sheriff's deputies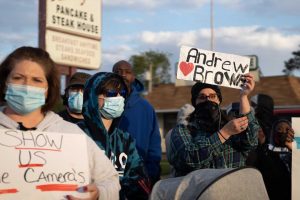 The family of Andrew Brown Jr., a Black man who was killed by sheriff's deputies in North Carolina last month, will be shown limited footage of the fatal shooting on Tuesday – videos that haven't been made public despite outrage from the community, questions about the shooting and lawsuits demanding their release. 
The footage, which will not be released to the public, is being shown to the family by the Pasquotank County Sheriff's Office after a court order. The ruling by North Carolina Superior Court Judge Jeff Foster specifies which portions of the footage Brown's family can view and limits them to see fewer than 20 minutes of the more than two hours of video taken before and after Brown's death. 
Brown was shot five times – including once in the back of his head, a family-backed autopsy showed – as deputies were serving search and arrest warrants at Brown's home in Elizabeth City, North Carolina, on April 21. A North Carolina prosecutor said deputies opened fire on Brown when he was attempting to flee and hit deputies with his vehicle – a key detail Brown's family says the footage does not back up. 
The shooting occurred one day after former Minneapolis police officer Derek Chauvin was found guilty of murdering George Floyd, a stark reminder of the demands activists have made for changes in policing after a day filled with celebrations across the country. Since Brown's death, protests have continued in the area with demonstrators demanding transparency and the public release of footage. Leaders at one point instituted a curfew.
Source: Read Full Article