Gen Z consumers are happy to let AI take their measurements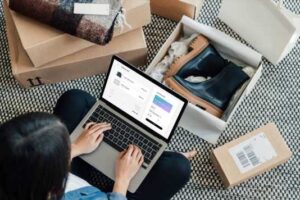 Humans need to seriously a-dress the issue of artificial intelligence, as the young Generation Z population expect robots to soon do most skilled tasks – such as measuring them for suits.
Microsoft-backed OpenAI fired the starting pistol on an artificial intelligence (AI) arms race in November, when it made free-thinking chatbot ChatGPT available to the public.
Experts including Twitter and SpaceX billionaire Elon Musk, 51, called for a pause in AI, fearing for the future of mankind amid concerns machines could become smarter and take over the planet.
But new research has shown Generation Z have no such qualms about the technology becoming commonplace – with the next generation of shoppers are even prepared to allow robots to take their measurements.
Klarna, the global payments and shopping service, have revealed shopping services like themselves are already integrating AI personalisation into their products.
And their new shopping habits study of over 5,000 consumers across five countries found when Gen Z are about 40, in around 18 years, they expect well-mannered robot fashion advisors will be the norm.
Half of Gen Zers are open to the idea of a robot approaching them in-store to take their measurements and recommend styles.
While 34 percent want access to virtual 'personal shoppers' which can provide recommendations based on their fashion style and taste when they shop online.
In the year 2041, 40 percent said they expect to be using virtual dressing rooms, with AI advising them on which clothes best fit their body.
David Sandström, Chief Marketing Officer at Klarna, said: "The next generation of consumers will expect a highly personalized shopping experience where products find them instead of the other way around."
Source: Read Full Article