German Consumer Confidence Set To Weaken Further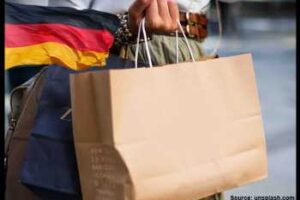 Germany's consumer confidence is set to erode again in October, as households turned more cautious on spending amid persistently high inflation and little chance of improvement in the economic outlook, resulting in a sharp rise in their saving intentions, results of the monthly survey by the market research group GfK showed Wednesday.
The forward-looking GfK consumer confidence index for October fell to -26.5 from a revised -25.6 in September. Economists had forecast a score of -26.
Consumer confidence weakened for the second month in a row due to a sharp rise in the propensity to save sub-indicator.
The propensity-to-save indicator climbed to 8.0 points from 0.5 in the previous month, to mark the highest level since April 2011, when it was 8.8 points.
"This means that the chances of a recovery in consumer sentiment this year have probably fallen to zero," Rolf Burkl, GfK consumer expert, said.
"The reasons for this are a persistently high inflation rate due to sharply rising food and energy prices."
"Consequently, private consumption will not be able to positively contribute to overall economic development this year, Burkl added.
The income expectations index of the survey gained a modest 0.2 points to -11.3, while the propensity to buy indicator added 0.6 points and remained very low at -16.4 points.
The last time the level was lower than it is today was during the severe financial and economic crisis of 2008, GfK said.
The current inflation of 6.1 percent in Germany is damping the purchasing power of households thus hurting their income expectations. Rising food and energy prices adds more strain on household budgets, forcing them to delay big purchases due to lack of resources.
"…the joy that consumption brings will only return when the inflation rate is reduced to an acceptable level and households can record noticeable and real growth in income," GfK said.
Economic expectations stabilized after a steep fall in the previous month, with the relevant indicator gaining 2.8 points to -3.4.
Leading think tanks including ifo and DIW have forecast a mild recession for the biggest euro area economy this year. They projected a GDP contraction of 0.4 percent this year and projected an increase in joblessness.
Further, rising corporate bankruptcies have added fuel to fears of unemployment, the GfK noted.
Elsewhere in Eurozone, survey data from INSEE showed that French consumer confidence weakened for the first time in three months.
Source: Read Full Article