Good news for investors as major players payout £10bn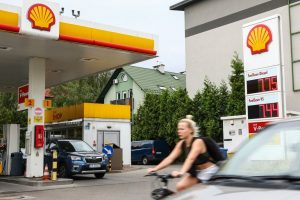 We use your sign-up to provide content in ways you've consented to and to improve our understanding of you. This may include adverts from us and 3rd parties based on our understanding. You can unsubscribe at any time. More info
Thanks to soaring wholesale energy prices, Shell said it plans to spend £4.9billion on share buybacks and pay investors a dividend of US 25 cents (21p) per share, which works out to be worth £1.8billion. When companies buy back and cancel shares, it pushes up the value of those remaining.
Shell made a second-quarter net profit of $18billion (£14.9billion), a company record, 426.3 percent higher than they were for the same period last year and more than double what it made in the first three months of the year. Its revenues leapt 65.3 per cent to £82.5billion.
The second biggest dividend announced yesterday was from drinks giant Diageo, owner of Smirnoff, Johnnie Walker and Guinness.
Its full-year sales rose 17.2 percent and net profits climbed 19.3 percent to £3.3billion, enabling it to declare a full-year dividend worth 46.8p to investors, a payday worth £1.1billion.
It said that its growth was down to the recovery of pubs and bars post-Covid, as well as continued demand for premium spirits.
Even though its net profits dropped by more than a third to £2.5billion after racking up £1.8billion in litigation and conduct costs, Barclays unveiled plans to hand over more than £865million to its shareholders.
It hiked its dividend 12.5 percent to 2.25p, for a payout worth £367.2million, in addition to announcing a £500million share buyback programme.
BAE Systems said that thanks to strong orders and good operational performance, its shareholders will get an interim dividend worth 10.4p each, worth £328.3million in total.
Last year its dividend was 9.9p. Additionally, it committed to buying back £1.5billion of its shares over the next three years.
Elsewhere, Centrica announced plans to restart dividend payments for the first time since the pandemic hit. It will pay a 1p per share dividend, worth £59.1million to investors.
Source: Read Full Article