'Goosebumps' Author R.L. Stine Edits Book Series, Changes Mental Health, Weight & Ethnicity References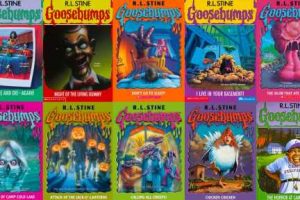 R.L. Stine is revising his popular Goosebumps books series and making edits to the published work with a more inclusive language. The move from Scholastic comes after Penguin hired sensitivity readers to edit Roald Dahl's books from language deemed inappropriate in today's world.
However, there was so much backlash over Penguin's move that the publisher said they would make available unrevised versions of Dahl's books later this year under the banner "The Roald Dahl Classic Collection," giving readers the option to choose which one to read.
Related Story
Roald Dahl's Books Get Edited For Language Deemed Offensive; Words Like "Fat" & "Crazy" Removed
The difference to what is happening with Goosebumps is that the original author is making the changes himself and The Times is reporting that over 100 edits have been made to the children's horror novels. One example of a revision that was made was in a book where aliens abducted large people where in the original book they were described as having "at least six chins," the revised version now says the people are "at least six feet six."
In a reissue of the 1998 title Bride of the Living Dummy, the ventriloquist dummy Slappy knocks out a girl unconscious with a "love tap" but the villain now uses a magic spell. In the 1996 book Attack of the Jack-O'-Lanterns, a character is described as "tall and good-looking, with dark brown eyes and a great, warm smile. Lee is African-American, and he sort of struts when he walks and acts real cool, like the rappers on MTV videos." The revised version now calls the character "tall and good-looking, with brown skin, dark brown eyes and a great, warm smile. He sort of struts when he walks and acts real cool."
In The Curse of Camp Cold Lake from 1997 the boys of summer camp are no longer described as giving "a loud wolf-whistle" and are now said to have "whistled loudly." That same year I Live in Your Basement! was published where the protagonist of the novel asks, "did he really expect me to be his slave – forever?" The protagonist now asks, "Did he really expect me to do this – forever?"
In Say Cheese and Die – Again!, schoolgirls were described as having "crushes" on the headmaster but that line has now been deleted. In Don't Go to Sleep!, a boy called Anna Karenina "girl's stuff" but now says it's "not interesting."
Must Read Stories
Prolific Actor Dies At 61 After Aneurysm; Hollywood Reax + Career In Photos
Eyes $51M+ Opening In U.S., A Record For 'Rocky' Spinoff Franchise & Amazon
SAG-AFTRA And Casting Directors Weigh In On Self-Tape Controversy
Oscar Winner Guillermo del Toro On The Films That Lit His Fuse
Read More About:
Source: Read Full Article