Heidi Kuhn Wins World Food Prize For Restoring Farming In Former War Zones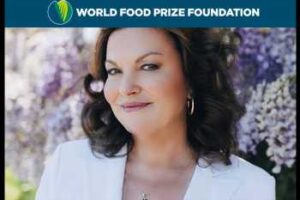 A humanitarian and peace activist who has spent more than 25 years restoring agriculture in former conflict zones has been named as the 2023 World Food Prize Laureate.
The World Food Prize Foundation will award the honor to Heidi Kuhn, 65, for her farmer-focused development model that revitalizes farmland, food security, livelihoods and resilience after devastating conflict. Kuhn founded the nonprofit Roots of Peace in 1997 to replace the remnants of war with farmland. The organization also trains farmers in modern agricultural practices, from planting and harvesting to marketing through international exports.
The announcement was made by U.S. Ambassador Terry Branstad, World Food Prize Foundation President, at the National Academy of Sciences in Washington, D.C. The event featured remarks by U.S. Secretary of State Antony Blinken, U.S. Secretary of Agriculture Thomas Vilsack and World Food Prize Foundation Chief Operating Officer Mashal Husain.
Kuhn, a mother of four and cancer survivor, has worked in nine countries to confront the daunting challenge of rebuilding food systems and livelihoods after conflict.
Her work has supported de-mining partners in Afghanistan, Angola, Azerbaijan, Cambodia, Croatia, Israel, Iraq, Palestinian areas, and Vietnam, allowing local farmers safe access to irrigation canals and arable land for cultivation. Most recently, Roots of Peace has partnered with the Rotary Club of Ukraine to begin work in the country, where the UN estimates around 30 percent of the country could be mined as a result of the ongoing conflict.
First she partners with demining organizations to clear land mines. Then she works with farmers to replant fields with modern agriculture practices. She started by partnering with wineries in her home state of California to raise funds to remove land mines in Croatia and replant vineyards and orchards. Then she took this model to Afghanistan. After clearing land mines there, she helped farmers – including more than 5,000 women – produce high-quality crops. She built agriculture value chains and provided market support and development.
In total, by harnessing the collective power of governments, businesses and international organizations, Roots of Peace has removed more than 100,000 landmines.
"It is with immense gratitude and a sense of responsibility that I humbly accept the World Food Prize this year on behalf of Roots of Peace and the farming families of war-torn countries across the world," said Kuhn, who was visiting minefields in Azerbaijan when the announcement was made.
Kuhn will be presented the World Food Prize at the Iowa State Capitol in Des Moines on October 26.
Source: Read Full Article