IMF chief warns eurozone economic stability 'vulnerable' as he warns of 'shock'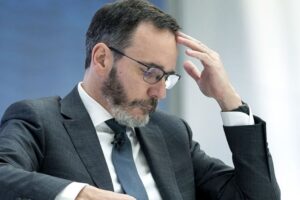 The chief economist of the International Monetary Fund (IMF) has warned Europe is "vulnerable" after the failure of several US regional banks in recent months. But Pierre-Olivier Gourinchas also reassured the banks appeared "solid". Speaking in Paris at a meeting organised by the Association of Economic and Financial Journalists (Ajef), Mr Gourinchas said: "Europe is vulnerable because the banking union is not complete.
"We do not yet have a deposit union: this means that France is responsible for its own banks, Germany is responsible for its own banks if there is a shock in terms of deposit guarantees."
However, he added: "We are entitled to ask questions about the capacity of (European) countries to take charge of their own banks if there was a major banking shock", as the American authorities did after the failures of Silicon Valley Bank, Signature Bank or First Republic.
The financial margins of European states to rescue banks that fail are limited, after the significant public spending since the Covid-19 pandemic.
Mr Gourinchas said the IMF "is a bit worried about this banking instability because once investors get nervous about financial institutions, there is always the possibility of market movements that are amplified and not very well controlled".
However, European banks have "bigger capital cushions" than their US counterparts and have undergone "more rigorous" stress tests than in the US, he reassured.
He added that "in the eurozone, we have not had any large banks that have been in trouble," with the exception of Credit Suisse, "a bank that has been in trouble for a long time".
Europe "has stronger banks, but fewer tools (than the US) to respond" to their potential difficulties, Gourinchas continued.
READ MORE: Russian troops injured as explosive drone attack hits military training ground
The warning comes as on the other side of the Channel analysts were forced to admit they were wrong about their gloomy predictions on the future of Pound Sterling.
Vasileios Gkionakis, head of European foreign exchange strategy at banking company Citi, wrote to clients on Tuesday: "We have been wrong, plain, and simple. The reality is that, while inflation exhibits some idiosyncratic persistence, contrary to what we expected, activity has proven far more resilient."
Analysts at Natwest and Goldman Sachs echoed the prediction.
Additional reporting by Maria Ortega
Don't miss…
Energy bills to drop by £437 a year from July, experts say[INSIGHT]
New Rishi plan means taxpayers will foot bill if house prices crash[ANALYSIS]
Graduate earns £1.5m in scholarships leaving school debt-free[DATA]
Earlier this month, Goldman Sachs said it has adopted an "outright constructive stance" on Sterling.
Kamakshya Trivedi, head of global foreign exchange at Goldman, said: "Essentially, we think that the same factors that acted as headwinds on sterling in 2022—mostly natural gas prices and the relative stance of Bank of England policy—have turned to tailwinds.
"The UK's terms of trade have rebounded since August and, in turn, the magnitude of the likely real income squeeze has diminished meaningfully. At the same time, the housing market is showing tentative signs of stabilising."
Additional reporting by Maria Ortega
Source: Read Full Article