Kaitlan Collins To Host New CNN Primetime Show As Network Unveils Plans At Upfront — Update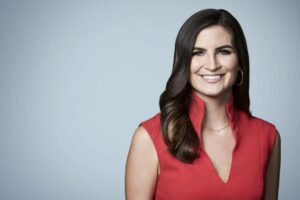 UPDATED: CNN Worldwide CEO Chris Licht confirmed that Kaitlan Collins would be taking over the 9 p.m. ET primetime slot, filling a major hole in the network schedule as it faces sagging ratings.
The move had been expected, with Collins having been among the rotating hosts to have filled the slot since the firing of Chris Cuomo in December, 2021. Licht announced the move in a memo to staffers on Wednesday, and Collins appeared at the Warner Bros. Discovery upfront presentation along with Licht and Anderson Cooper.
"The new show is going to feature thoughtful perspectives, spirited conversation and respectful debate around the day's top news, and I will be in good company," Collins told advertisers.
Related Story
CNN Unveils Three Original Series At Upfront: 'Columbia,' 'TinderBox' And 'Spy Wars'
Collins moderated the CNN town hall last week with Donald Trump, which ignited intense media debate and criticism, including inside the network, over giving the former president a platform to spew a volley of misinformation. Licht has defended the town hall decision, as well as Collins' performance.
Collins will start in June, with the official launch later in the summer.
Licht has been a big booster of Collins since he became CEO of the network a year ago. She had been the network's chief White House correspondent, but Licht tapped her to be one of three co-hosts of the network's revamped morning show last fall.
Licht wrote in the memo to staffers, "Kaitlan will showcase why she's one of the top reporters and interviewers in the game. She is a smart and gifted journalist who we've all seen hold lawmakers and newsmakers accountable. She pushes politicians off their talking points, gets real answers – and as everyone who's worked with her knows – breaks a lot of news."
Licht said the network will be conducting a nationwide search for an executive producer of the show and will be reviewing internal candidates.
That show, CNN This Morning, may be in for an overhaul again, with Collins' departure and after the network fired another co-host, Don Lemon. Current plans are for Poppy Harlow to co-anchor with a rotating series of anchors.
CNN's primetime, already in third place among total viewers, has suffered without a permanent host in the key 9 p.m. slot.
On Friday, the network found itself in fourth place among news channel rivals, behind Newsmax. There was a significant viewership drop off at 9 p.m., where CNN slated a replay of its Sunday magazine series Whole Story with Anderson Cooper.
CNN did win the night last Wednesday as it aired the town hall event. The event triggered a great deal of angst across the network and among journalists in general, as it showed the vexing problems of covering Trump, the front runner for the Republican nomination, while he continues to amplify lies and misinformation about the results of the 2020 presidential election and a host of other topics. Some critics blamed the format of the event, before a boisterous audience of Republican voters who gave Trump standing ovations and laughed as he made light of the $5 million verdict against him last week. A jury found him liable for sexual abuse and defamation in the case brought by E. Jean Carroll.
Licht defended the town hall in a staff call the day after the event, and Cooper did so on his show on Thursday night. "There is so much we learned last night about what a second Trump presidency would look like, that is incredibly important for the country to hear," Licht told staffers.
At the upfront, an image of a CNN town hall stage was flashed across the screen, but Donald Trump was not mentioned. One clip showed Collins asking Trump a question during the event.
Licht told advertisers CNN continues to "prioritize reporting over punditry to separate the news from the noise." It has a "commitment to topics that matter to real people. … this broad range of essential information is always on display."
CNN has a "commitment to delivering the news truthfully, transparently and without fear or favor," he said.
The network also previewed King Charles, its new conversation series headlined by Gayle King and Charles Barkley, set to debut in the fall. CNN is counting on King and Barkley's personalities and star power, but the show will air only once a week in primetime.
Licht also gave a glimpse of plans for the network to get a refreshed look next month, as new fonts and graphics are unveiled. What was shown as a slimmer typeface, a change from the bolder chyrons. "It's clean, modern and very easy to look at," Licht said.
Must Read Stories
Addresses Hollywood Boycott Claim In Cannes; 'Jeanne Du Barry' Review
WBD Day: Selena Gomez Joins Food Net, 'Joe Schmo' Reboot, Michael Bay, CNN, More
Troy Kotsur, Maika Monroe Set For 'In Cold Light'; Latest Market News; Photos
'Fast X' Revving Up To Run Circles Around World With Near-$300M Bow: Preview
Read More About:
Source: Read Full Article