Lift Off! Jeff Bezos Goes To Space & Back After Successful Blue Origin Launch – Update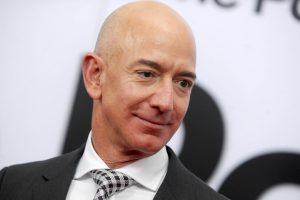 UPDATE 06:22AM PT: Bezos is back. The billionaire's craft has successfully touched down in the Texas desert after what appeared to be a seamless 10-minute journey. Bezos was seen giving a thumbs up to Blue Origin workers who drove out to retrieve him and his fellow passengers, which included his brother Mark, 82-year-old pilot Wally Funk, and 18-year-old Oliver Daemen.
PREVIOUSLY: Amazon founder Jeff Bezos' Blue Origin space flight is go. At 06:12AM PT the New Shepard craft successfully took off from Launch Site One in the West Texas desert. The journey will last for roughly 11 minutes, with the shuttle reaching a set suborbital height before separating, allowing for a period of weightlessness before the crew will descend in their capsule under parachutes for a ground landing.
Today, July 20, marks 52 years to the date that Neil Armstrong and Buzz Aldrin landed the Apollo 11 Module on the moon.
Watch on Deadline
Bezos becomes only the second billionaire in the last fortnight to venture into space, following Richard Branson, who took off with Virgin Galactic on July 11.
Accompany Bezos on the flight are his brother Mark Bezos, pilot Wally Funk, and 18-year-old Oliver Daemen, who today becomes the youngest ever person to venture into space. Daemen wasn't on the original passenger list, with an anonymous party winning the auction for $28M before dropping out due to scheduling conflicts. On the same token, Funk, at 82 years old, becomes the oldest ever astronaut to make the trip.
Bezos and co are aiming to cross the Karman Line, which is the defined border between our atmosphere and outer space and sits roughly 100km (62 miles) above the planet's sea level.
Technically, Branson's spacecraft didn't cross the Karman Line, so Bezos could claim superiority in the Space Race. Not that it's a competition or anything.
To date, only around 570 people have ever made the journey to space, but companies such as Blue Origin and Virgin Galactic are aiming to make space travel a viable commercial operation – 'space tourism' – that could see many more members of the public awarded their astronaut wings in the coming decades. Trips are expected to cost between $250,000 and $500,000 a go.
Over to you SpaceX founder Elon Musk, who today was the wealthiest man on Earth, albeit only for the brief period while Bezos was off the planet.
Read More About:
Source: Read Full Article