MastersFX Hires Industry Veteran Sandra Lindala To Run Studio Ops In Toronto And Vancouver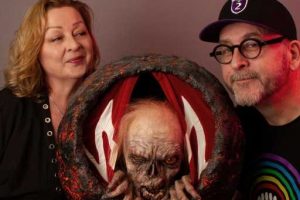 EXCLUSIVE: MastersFX, the special effects character and makeup company behind everything from Chucky in Child's Play to Jack from the Jack in the Box commercials, has hired Sandra Lindala as its new VP. She will oversee the company's operations in its Vancouver and Toronto studios and help develop new business.
Lindala most recently was Makeup FX Producer at Lindala Schminken FX, whose credits include Peacemaker, Arrow, The Flash and Supergirl. Before that she was an executive at Warner Bros, Spafax LLC and Air Canada; in those roles her focus was on marketing, strategic partnerships and acquisitions, licensing and branded content, publishing and merchandising.
Related Story
'Lazer Team' Getting Japan Theatrical Release; MastersFX Opens Toronto Outpost – Global Briefs
"Sandy's diverse experience will ensure the continued success of MastersFX," said Todd Masters, the studio's founder, president and CEO. "Sandy's extensive background as a producer, along with her unique creativity and her exceptional knowledge in character FX is the supreme meal-deal for us."
MastersFX specializes practical & digital makeup FX, prosthetics and animatronics. It recently completed work on the second season of Showtime's Yellowjackets and the final season of CW's Nancy Drew. It is currently in production on Nickelodeon's Monster High, CBS' Fire Country, ABC's The Good Doctor, Prime Video's The Boys and Netflix's The Umbrella Academy.
"I look forward to better serving those clients who have been part of MastersFX's journey for its 36 years, as well as many others, with whom I have connected," Lindala said. "MastersFX is the true home for artists and creators, and I look forward to evolving its ability to execute at even a higher level."
Must Read Stories
'Creed III' Eyeing Franchise-Record 3-Day Debut Of $38M-$40M: Weekend Preview
'Dune: The Sisterhood' Star Shirley Henderson & Director Exit Amid Creative Overhaul
WGAW Exec Director David Young On Medical Leave; Ellen Stutzman To Lead Contracts Talks
HBO's Bill Maher, On CNN As Part Of Its New 9 PM Strategy, Predicts Biden Beats Trump In '24
Read More About:
Source: Read Full Article