Multiple Frozen Fruit Sold At Kroger Recalled For Listeria Concerns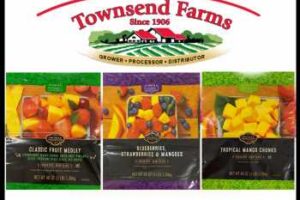 Fairview, Oregon-based Townsend Farms Inc. is recalling frozen fruit products under multiple brands linked to certain mango chunks, citing potential contamination of Listeria monocytogenes, the U.S. Food and Drug Administration said.
The mango chunks in concern were supplied by Sunrise Growers Inc., a unit of plant and fruit-based food and beverages producer SunOpta Inc., which last week called back frozen fruit products due to contaminated pineapple. The affected products, most of them from Mexico, were distributed to Kroger Stores in 16 states from November 06, 2022 to March 16, 2023.
The recall involves Private Selection 48oz Tropical Mango Chunks, 16oz Strawberry, Mango & Pineapple Blend, 48oz Classic Fruit Medley, and 48oz Blueberries, Strawberries & Mangoes. They were sold under various brands, such as Baker's, Dillons, Food 4 Less, FoodsCo, Fry's, Gerbes, Jay C, Mariano's, Metro Market, Pay Less, Pick n' Save, Ralphs, Ruler, and Smith's.
The affected products with various date codes were distributed in Alabama, Arkansas, Georgia, Illinois, Indiana, Kentucky, Louisiana, Michigan, Missouri, Mississippi, Ohio, South Carolina, Tennessee, Texas, Virginia, and West Virginia.
Listeria monocytogenes is an organism that can cause serious and sometimes fatal infections in young children, frail or elderly people, and others with weakened immune systems. Healthy individuals may suffer only short-term symptoms such as high fever, severe headache, stiffness, nausea, abdominal pain and diarrhea, while Listeria infection can cause miscarriages and stillbirths among pregnant women.
The affected retail customers have been instructed to remove any recalled product from retail store shelves and inventories.
Customers are urged to either discard the product or return it to the store for a full refund.
Sunrise Growers last week had called back frozen fruit products under multiple brands linked to pineapple provided by a third-party supplier due to potential for these products to be contaminated with Listeria monocytogenes. Those recalled products were sold through various retailers including Walmart, Whole Foods, Trader Joe's,Target, Aldi, and AWG.
In mid June, various companies had called back their frozen fruit products that contained strawberries grown in Mexico linked to an ongoing outbreak of hepatitis A infections.
For More Such Health News, visit rttnews.com
Source: Read Full Article