Musical Adaptation Of Acclaimed Novel 'Long Way Down' Among Projects Slated For New Production Company Edgewood Entertainment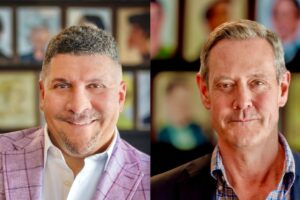 EXCLUSIVE: Broadway producer Dale A. Mott (A Strange Loop, The Piano Lesson, Thoughts of a Colored Man) and real estate investor/philanthropist Charles D. Urstadt have formed Edgewood Entertainment, a new multimedia production company focused on supporting works by historically marginalized people, including the BIPOC and LBGTQIA+ communities and female artists.
Edgewood's current projects as lead producers include a slate of ventures in various stages of development, most with an eye toward Broadway and all in keeping with the company's mission statement of giving voice to the marginalized. The projects include:
Related Stories
Awards
Tony Awards Review: A Writer-Less Ceremony Goes Off Without A Hitch As Broadway Improvises A Winner; Snubs, Surprises And More
Awards
Is Tony-Winning 'Leopoldstadt' The Last Of A Dying Breed? "I Don't Know When There'll Be A Play Like This Again" Due To Broadway Economics, Producer Sonia Friedman Says
Gun & Powder, produced in association with P3 Productions, a new musical inspired by the true story of Mary and Martha Clarke, African American twin sisters who, passing as white in 1893 Texas, take extraordinary measures to settle their mother's sharecropper debt and save her home. Directed by Stevie Walker-Webb, Gun & Powder will first be presented at Paper Mill Playhouse in Millburn, NJ., April 4-May 5, 2024;
Long Way Down, produced in association with TheaterWorksUSA, is based on the acclaimed award-winning bestselling 2017 young adult novel by Jason Reynolds, which examined the cycle of gang violence through a series of ghost stories. The musical, mixing hip-hp with R&B, will feature book and lyrics by Dahlak Braithwaite and Khiyon Hursey and direction by Ken-Matt Martin. Long Way Down will have invited presentations at The Apollo on October 27 and 28, followed by a rolling world premiere at the Olney Theatre Center in Olney, MD (May 22-June 23, 2024), and The Apollo's Victoria Theater in New York (October 2024, dates to be confirmed);
Sugar Daddy, which received 2023 award nominations by the Outer Critics Circle and the Off-Broadway Alliance for its limited engagement at SoHo Playhouse, follows comedian Sam Morrison as he meets his partner at a gay bear festival and finds hope and humor in grief after his passing. Morrison's story mixes comedy and tragedy, addressing "love, loss, diabetes, seagull attacks, and a few extraordinary coincidences";
La Egoista by Dominican American playwright, performer, and theatremaker Erlina Ortiz, shares a story of the bond among siblings, the cost of caregiving, and a comedic take on "the fine line between selfish and selfless." La Egoista premiered earlier this year at Actors Theatre of Louisville followed by a West Coast premiere at Skylight Theatre in Los Angeles. La Egoista is being further developed with direction by Puerto Rican director Tatyana-Marie Carlo;
Grace, produced with NEWorks Productions, is a new musical celebrating the perseverance of family and the value of cultural preservation. The production played its world premiere at Ford's Theatre in Washington, D.C., in 2022 where it won 11 BroadwayWorld Regional Awards. A new version of Grace was recently workshopped at the Dr. Phillips Center for the Performing Arts in Orlando, FL.
Mott, who among other endeavors serves on the board of directors for the Ogden Museum of Southern Art and is a member of the Black Trustee Alliance for Art Museums and an associate member of The Broadway League, has been a producer on the Broadway productions of A Strange Loop (Tony Award, Best Musical), August Wilson's The Piano Lesson, New York, New York, Thoughts of a Colored Man, and The Lifespan of a Fact.
In a statement, Mott said the opportunity to "be able to focus on stories that we believe in that will inspire and uplift audiences is a dream."
Urstadt has been in the real estate business for more than 40 years, recently serving as chairman of the board of directors of Urstadt Biddle Properties, Inc, a real estate investment trust traded on the New York Stock Exchange. Currently, he leads Urstadt Property Company, Inc., a privately held real estate investment corporation, serving as chairman and president.He has long been a supporter of performing and visual arts and cultural causes.
Urstadt said in a statement, "I have been a longtime supporter of theater, so I am truly grateful for this opportunity to work with my friend Dale on Edgewood Entertainment. The stories that we will tell deserve to be heard."
Must Read Stories
Channel 4 & BBC Bosses Address Russell Brand Allegations At UK Industry Confab
Meredith Stiehm Easily Re-Elected WGA West President; Running Mates Also Win
Stock Slips After Media Giant Unveils 10-Year, $60 Billion Theme Parks Plan
'Wheel Of Fortune's Vanna White Closes New Deal As Show Begins Final Season With Pat Sajak
Read More About:
Source: Read Full Article