Ryanair leaves London Stock Exchange over EU ownership rules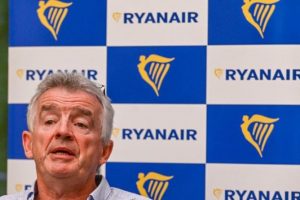 Ryanair passenger claims airline forced her to sleep in a storm
We use your sign-up to provide content in ways you've consented to and to improve our understanding of you. This may include adverts from us and 3rd parties based on our understanding. You can unsubscribe at any time. More info
Ryanair first trailed the plans earlier this month and has now announced its last day of trading in London will be the December 17. Shares in the low cost airline fell more than 1.5 percent following the news. In a statement Ryanair said: "As indicated at our interim results, and following subsequent shareholder engagement, Ryanair has decided to request the Cancellation of London Listing as the volume of trading of the shares on the London Stock Exchange does not justify the costs related to such listing and admission to trading, and so as to consolidate trading liquidity to one regulated market for the benefit of all shareholders." Trading of Ryanair shares in London has already been restricted due to EU rules on foreign ownership aimed at keeping control with investors in the bloc.
Under the rules airlines have to maintain ownership by EU investors at a minimum of 51 percent.
AJ Bell investment director Russ Mould said: "Ryanair is desperate to be majority EU-owned in order to retain full licensing and flight rights in the bloc following the UK's exit from the EU."
Ryanair had already had to make some UK investors sell their shares in order to get under the required threshold as well as restricting UK shareholders' voting rights.
Speaking to Bloomberg earlier this month Ryanair boss Michael O'Leary called it "an inevitable consequence of Brexit."
He added: "We must be EU-owned and controlled, and delisting from London is a reasonably small initiative in that strategy."
Mr O'Leary also confirmed that even after taking steps to limit non-EU ownership only just over a third of the company's shares belonged to shareholders in EU member states.
Rules around foreign ownership are present in other countries such as the US and date back to a 1944 convention, the Chicago Convention, which laid out many of the rules governing air transport.
However many in the air industry have accused foreign ownership rules of being archaic and called for them to be liberalised.
Former British Airways (BA) chief and current head of the International Air Transport Association Willie Walsh previously branded them "ridiculous."
The UK Government itself has taken this view with the Department for Transport describing the rules as "outdated" and saying they "do not reflect the reality of the global capital markets."
The rules have also impacted other airlines with EasyJet having to restrict voting rights for UK shareholders, a move also followed by Wizz Air.
Anglo-Spanish BA owner International Airlines Group also faces a similar dilemma.
DON'T MISS:
How Britons can cut their inheritance tax bill and avoid 'stealth' tax [REVEAL]
Early Christmas shopping brings boost to retailers [ANALYSIS]
Metro Bank takeover talks scrapped [SPOTLIGHT]
Around 25 percent of the company is owned by Qatar Airways and it also has a high number of US investors.
This week has also seen company shifts to London though with oil giant Shell announcing plans to move its headquarters and tax base to Britain over the Netherlands.
As part of a wider structural overhaul the company will also drop the 'Royal Dutch' section of its official title.
Source: Read Full Article